Subscribe

Archives

Classifieds

Advertise

Customer Service

Geotimes Search
---
---
---
NEWS NOTES
---
Afghanistan flights reveal natural riches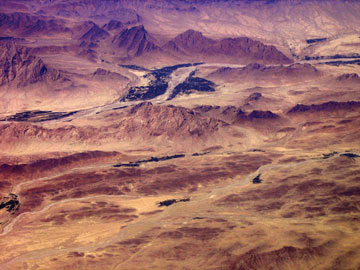 U.S. Geological Survey
Researchers flew over remote parts of Afghanistan, collecting data on the country's geology to better map its resources.
Afghanistan possesses abundant natural resources, according to a new comprehensive airborne study. The assessment built upon previous land-based assessments of the country's resources, which had suggested that Afghanistan possesses a wealth of metals and gemstones, and more oil and natural gas than previously thought.
Recent assessments based on data collected by the Soviet Union between the 1950s and 1985 suggested that Afghanistan contains abundant copper and iron, as well as potentially large, undiscovered deposits of many other metals, gemstones, industrial minerals and building materials. Additionally, a previous 2006 assessment by the U.S. Geological Survey (USGS) and the Afghanistan Ministry of Mines and Industry indicated that the country holds as much as 18 times more oil and three times more natural gas than previously thought.
For the airborne study, Afghan and U.S. scientists conducted 37 flights in August 2006, surveying two-thirds of the country's land surface and collecting geophysical data and aerial photographs. The gravity and magnetic data collected during the flights map out the potential locations of the ore deposits and hydrocarbons in Afghanistan, such as large copper deposits in many of the country's provinces, including Kabul to the east and Kandahar to the south, and iron deposits in the Bamiyan and Baghlan provinces, near the center of the country. The data also provide new information on Afghanistan's subsurface structures, which exploration geologists can use to focus their search for resources. The data will also help scientists assess potential seismic hazards and possibly discover new aquifers, according to USGS. Aboveground, the aerial photographs can give scientists a more accurate picture of the land surface elevation in the mountainous country.
Funded largely by Afghanistan's Ministry of Mines, with help from USGS and the U.S. Naval Research Laboratory, the study was carried out by 24 Afghan scientists and 13 U.S. researchers. USGS presented the latest data at the Embassy of Afghanistan in Washington, D.C., in April.
Links:
Afghanistan has oil, Geotimes, May 2006
Afghanistan's untapped wealth, Geotimes, March 2008