---
Feature
---
REMOTE SENSING FOR
ACID MINE SITES
By Frederick B. Henderson III

---
In 1987, NASA's Jet Propulsion Laboratory introduced AVIRIS, the Airborne Visible Infrared Imaging Spectrometer. It was the first hyperspectral imaging system, flying on an ER-2 plane up to 20 kilometers above Earth and measuring the surface in visual to short-wave infrared wavelengths ranging from 400 to 2,500 nanometers. AVIRIS produces a complete spectrum that represents the composition of Earth's surface.
NASA and private companies are now developing satellite systems that can remotely "see" Earth's surface at increasingly high resolutions. OrbImage's Orbview-4 can provide hyperspectral data at resolutions ranging between eight and 24 meters. Earth Search Science Inc.'s NEMO satellite will provide similar data at a 30-meter resolution. The Canadian Radarsat Program will soon offer multispectral radar reading down to three meters. The U.S. government has loosened security restrictions on high spatial and spectral resolutions of satellites, making way for companies to develop these new satellite systems for monitoring Earth: Space Imaging's recently launched IKONOS 1 satellite, for example, along with satellites that EarthWatch and OrbImage will launch, will view Earth at a one-meter spatial resolution.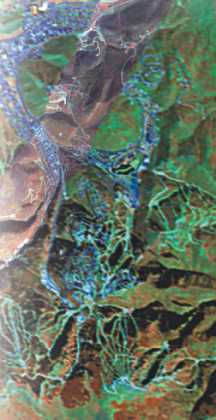 Environmental remote sensing began when NOAA launched meteorological satellites in the 1960s, and continued with land and ocean satellites such as Landsat, SPOT.ERS, JERS and Radarsat. These satellites can map and monitor large-scale environmental problems, but their resolutions are too low for detecting the small-scale problems.
With the advent of commercial, high-resolution satellites, coupled with hyperspectral data, remote sensing can monitor industrial and urban pollution down to one meter and is proving a tool for identifying individual materials.
More researchers are recognizing that mapping with high-resolution spectral images of Earth's surface is also useful for studying and monitoring acid mine wastes and their impacts on surrounding watersheds. Hyperspectral remote sensing allows for high-resolution measurements of a material's spectra, making it possible to identify an area's specific minerals, rocks, soils and vegetation — and the changes over time that record an ecosystem's health.
Above right: This hyperspectral image shows Park City, Utah, as seen by the AVIRIS sensor. The background image was taken from 60,000 feet. Its resolution is 17-20 meters per pixel. The image superimposed diagonally across the main image was taken from an altitude of 15,000 feet and is 2-4 meters per pixel. This image shows Park City at a higher resolution, as well as nearby ski slopes (such as the white curves just south of Park City in the lower left portion of the image). Image supplied courtesy of Barnaby Rockwell of the U.S. Geological Survey.
The following pages offer examples of remote sensing images that are tools for monitoring acid mine sites.


| | | |
| --- | --- | --- |
| Vegetation classification image derived from Compact Airborn Spectrographic Imager (CASI) airborne sensor data | Identification of mineral separations by color | Map derived by applying a spectral angle mapping algorithm to the visible and near-infrared channels of an airborne imaging spectrometer |
Henderson is president of Hendco Services and is a stakeholder facilitator for EPA Region 8 and ISSI.
---