Subscribe

Archives

Classifieds

Advertise

Customer Service

Geotimes Search
---
---
---
Spotlight on Iraq
---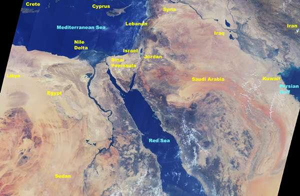 Geotimes stories on Iraq and National Security:

Special Geotimes issue: Rebuilding Iraq, October 2003
Featuring: Assessing Iraq's Oil Potential, by Mohammad Al-Gailani; Water, Agriculture and Land Cover: Lessons for the Postwar Era, by Mohamed Sultan et al.; Comment: Reconstructing Afghanistan: Nation Building or Nation Failure? by John F. Shroder Jr.

Iraq's Desert Also Needs Healing, June 2003
A Comment by Farouk El-Baz.

Burning assets: Oil well fires in Iraq and
Navigating dust: 21st century warfare and the sandstorms of Iraq, May 2003
Part of a special Geophenomena focus on Iraq.

A future for Iraq's oil, February 2003
Foreign policy experts recommend that — in the event of U.S.-led regime change in Iraq — Iraq retain control of its own oil sector and proceeds from oil sales go directly back into investing in oil infrastructure.

Inspectors armed with geophysics, November 2002
One of the most important places for U.N. inspectors to look for weapons in Iraq is underground. Geophysics provides the tools.

Oil in Iraq, November 2002
A unique geology has enriched Iraq with the second largest oil reserves in the world — but years of war and sanctions have driven wild fluctuations in oil production.

Special issue on Earth Science & National Security, February 2002
The issue features stories about the geology of Afghanistan and earth scientists working to help improve national security.


News and resources on Iraq:
National Geographic maps of Iraq
Weather in Baghdad
Washington Post coverage on the war in Iraq
Click on image at top right or here to link to a NASA mosaic map of the Middle East