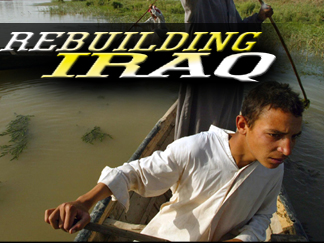 Assessing Iraq's Oil Potential
Iraq's oil reserves are the second largest in the world. But new investments and deployment of modern technology are necessary to help the country reach its potential.
Mohammad Al-Gailani
Iraq's Marshes Renewed
Geoscientists are pitching in to help restore Iraq's historic marshland area, now dramatically reduced because of water management practices in the region.
Naomi Lubick

Geotimes continues to cover geological issues in Iraq. Read our past coverage here.


October 31
Fires Rage in California
October 24
Vertebrates and tectonics
October 20
Settlement reached on coal slurry spill
October 10
Hydrocarbon oceans on Titan
October 3
Defined at last: El Niño and La Niña

Webextras Archive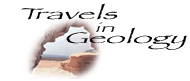 Taking a trip?
Check out Travels in Geology to find geologically significant places to visit.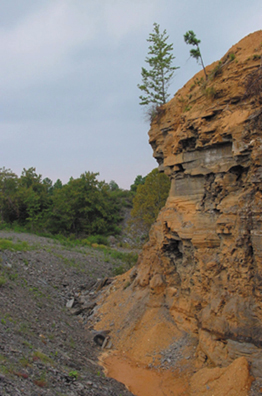 News Notes
Mine reclamation threatens tracksite
Fracas over Kansas pancake flap
New model for glacial erosion
Ancient glaciers near L.A.
Observing Earth
Water clues from martian carbonates

Geophenomena
New addition to the Aleutian family
Yellowstone geysers heat up
First dead zone forecast
Comment
Reconstructing Afghanistan: Nation Building or Nation Failure?
As the Coalition forces begin reconstructing Iraq, Afghanistan continues to undergo its own rebuilding process. Whether the country continues to fail or rises to succeed may depend on U.S. efforts to help develop Afghanistan's vast natural resources.
John F. Shroder Jr.

Political Scene
Endowing the AGI Congressional Fellowship
The American Geological Institute (AGI) and the AGI Foundation launch the William L. Fisher Congressional Geoscience Fellowship endowment.
David Applegate

Geoscience Education & Outreach
Fossils for Teens
A student shares his experiences at the Webb Schools, which holds the only large paleontology museum in the world located on a high school campus.
Michael Glavan

Technology
Earthquake warning tools
Advanced seismic networks and new earthquake simulation tools are taking seismologists closer than ever to meeting the goal of quake early warning.
Josh Chamot

Geologic Column
Searching for The Map
Take a whirlwind tour through London's streets and phone lines in pursuit of William Smith's famous 1815 geologic map of Britain.
Lisa Rossbacher
Profiles
David Krause: Kudos at home and abroad

Energy & Resources
Conflict over Peru's pipeline
Oil found on British farm
Mineral Resource of the Month: Perlite



Check out this month's Energy Notes!

Geomedia
Krakatoa
Revisiting The Core
On the Web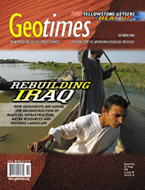 ON THE COVER
Ma'dan, or Marsh Arabs, fish in the Qurnah marsh in southern Iraq on May 16, 2003. Such subsistence living provides a majority of food sources for the region. Decades of damming and canal building under Saddam Hussein's regime and in other parts of the Middle East have diminished the Iraqi marshlands to 7 percent their original size. Read related stories on water resources and plans for restoring the marshlands. Photo from AP/Wide World Photos.
Coming Soon...
November: Remote sensing
Visit our searchable archive.