Subscribe

Archives

Classifieds

Advertise

Customer Service

Geotimes Search
---
---
---
HIGHLIGHTS — Energy Shifts
---
2007 Highlights Home page >> Energy Shifts Features >> Energy Shifts Highlights
---
The new precious metals
Standardizing oil and gas reserves
Energy Shifts: Headline News Stories

---
The new precious metals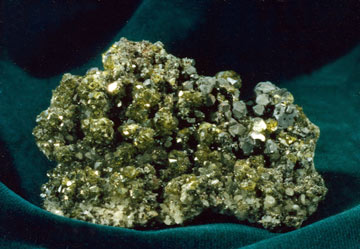 Andrew Silver, U.S. Geological Survey
A variety of raw materials is being increasingly used to make high-tech products. Indium, for example, is used to make LCD screens, but is only produced as a byproduct of mining zinc iron sulfide (sphalerite), pictured above.
In 2002, you could buy a kilogram of tellurium for a little more than $3. Four years later, it cost $45. And next year, the price may still go up.
Never heard of tellurium? You may not be alone, as the rare, brittle metalloid probably wasn't one of the elements you had to memorize in your high school chemistry class (on the periodic table of elements, it's sandwiched between antimony and iodine). Traditionally used as an additive to strengthen steel, tellurium, a semiconductor, has been increasingly employed by the solar power industry to make photovoltaic cells. But tellurium is not alone in its rise in popularity.
In the past few years, several less-well-known minerals have become hot commodities, as more high-tech gadgets have become engrained in our lives. In addition to tellurium, cadmium and germanium are also used to make photovoltaic cells, which convert solar energy into electricity. Tellurium and germanium are also finding their way into new, faster memory devices, such as a nanoscale memory technology recently developed by researchers at the University of Pennsylvania. And if you're reading this online, chances are high you're staring into a liquid crystal display (LCD) screen made with the soft metal indium, whose price has skyrocketed from $97 per kilogram in 2002 to $855 per kilogram in 2006 (see Geotimes, September 2007).
And as the price and demand for these rare minerals go up, companies are beginning to take notice. "I've probably talked to every major company in the solar cell industry," says Micheal George, a mineral commodity specialist for the U.S. Geological Survey (USGS) in Reston, Va., who tracks tellurium and other rare minerals. Companies trying to determine if using tellurium is cost-effective will call him to learn more about the mineral's abundance and availability. But price isn't the biggest concern for high tech companies wanting to use minerals like tellurium. The real problem for them is "a need for a guaranteed supply," he says.
One problem with the supply of many of these minerals — other than being, well, rare — is that they aren't mined directly. For example, "you can't find [tellurium] at high concentrations," George says, but "it attaches to gold and copper and zinc." So the majority of the world's tellurium supply is produced as a byproduct of copper refining, he says. Similarly, indium is recovered from zinc ores, and germanium is a byproduct of zinc or copper-zinc smelting.
Aware that Americans are consuming a growing number of products that rely on a wide variety of minerals, the National Research Council (NRC) of the National Academies released the results of a study — funded by USGS and the National Mining Association — in October that highlighted minerals it deemed "critical" to the U.S. economy and offered suggestions on how the government can keep better tabs on critical minerals. A critical mineral, according to NRC, is one that is both important for its use and has a potential for supply restriction, whether due to the difficulty in producing the mineral or because we rely heavily on importing it. Based on a limited sample, NRC identified platinum group metals, rare earth elements, indium, manganese and niobium — some of which are used to make catalytic converters, for example — as critical minerals.
In the report, NRC provided the "criticality matrix" it used to determine if its sample minerals were critical or not. NRC suggested the tool should be routinely used in the future to identify minerals critical to the U.S. economy.
Links:
"Indium prices on the rise," Geotimes, September 2007

---
Standardizing oil and gas reserves
In 2004, Royal Dutch Shell downgraded the amount of oil the company said it held by 20 percent. This overestimate of "reserves" sent shock waves through the global marketplace (see Geotimes, March 2004). In April 2007, Shell settled lawsuits over the scandal with European investors for $353 million. The company is hoping that its offer of an additional $80 million will settle a class-action suit in the United States. Meanwhile, the oil and gas industry is looking for ways to ensure that this does not happen again.
In June, the American Association of Petroleum Geologists (AAPG) and the Society of Petroleum Engineers (SPE) brought together geologists, engineers, accountants and economists to discuss adoption of oil and gas reserve definitions for international energy studies, government resources management, business management and financial reporting. They are currently working to come up with common and consistent technical definitions that professionals can use to more accurately estimate reserves.
Links:
"(Re)Classifying oil reserves," Geotimes, March 2004

---
Energy Shifts: Headline News Stories
Venezuela takes control
ConocoPhillips and ExxonMobil ended their operations in Venezuela's Orinoco River Basin in June rather than hand over more control to President Hugo Chavez's government, which had pushed to gain more control over the country's resources. Four other foreign oil companies — BP, Chevron, France's Total and Norway's Statoil — agreed to give majority control of their operations in Venezuela to the country's state-owned oil company, Petróleos de Venezuela S.A.
Bloomberg.com, June 26, 2007; Agence France-Presse, June 27, 2007.
Race for the Arctic
In August, a Russian expedition staked a claim in the Arctic Ocean, declaring that a section of the Lomonosov Ridge that stretches across the North Pole is really an extension of the country's continental shelf. That claim would give Russia control over the valuable oil and natural gas deposits in this section of the Arctic. In September, Russian scientists announced that soil samples taken during the expedition prove that the area is indeed Russian territory. After Russia planted its flag on the Arctic seafloor, Canada's prime minister visited the region to establish Canada's claims in the area. Denmark and the United States have both sent expeditions to map sections of the seafloor near Greenland and Alaska, although the United States says its trip was planned months before Russia's. The possibility of accessing resources in the Arctic as the ice cap continues to retreat spurred the recent interest in the area.
Geotimes online, Web Extra, Aug. 1, 2007; Reuters, Sept. 20, 2007; Greenwire, Aug. 10, 2007; Agence France-Presse, Aug. 13, 2007; Anchorage Daily News, Aug. 13, 2007.
New Amazonian hydroelectric dams
To help meet the country's growing energy demands, Brazil's government approved building two hydroelectric dams on the Madeira River, the Amazon River's largest tributary. The dams are expected to generate 6,450 megawatts of electricity, or about 8 to 10 percent of Brazil's energy needs. At an estimated cost of between $10 billion and $14.7 billion, construction of the dams could be completed as soon as 2012. However, environmentalists warn that the dams will disrupt the local ecosystem by harming important fish populations and by bringing thousands of new workers into the area.
BBC News Online, July 10, 2007; The Associated Press, July 9, 2007.
Where's the oil?
Over the last four years, between 100,000 and 300,000 barrels of oil per day have gone missing in Iraq, according to a U.S. Government Accountability Office (GAO) report released in May. GAO discovered the discrepancy after comparing production estimates with consumption and exports. The discrepancy either means Iraq has been incorrectly assessing its oil production or the unaccounted oil has been stolen or smuggled out of the country. Despite spending an estimated $5.1 billion to $7.4 billion on efforts to rebuild Iraq's energy and oil sectors, production in both industries has failed to meet U.S. expectations, according to the report.
The New York Times, May 12, 2007.
Texas and Mexico get linked
Though separated by the Rio Grande, Texas and Mexico joined their electrical grids in September, opening the way for the commercial trade of electricity across the border. The new connection is located in a region of Mexico that currently produces excess electricity, making it likely that Texas — the only state with its own independent grid — may begin to import some of that power. But as Mexico's energy needs grow over the next few years, electricity may begin to flow south across the border, too. Prior to the new connection, Mexico and Texas used three smaller connections only during emergencies.
The Dallas Morning News, Sept. 19, 2007.
Oil reaches record Price
This fall, the price of crude oil leaped higher than ever before, reaching $98 per barrel in trading in early November. That's almost as high as in 1980, when oil reached near $101 per barrel when adjusted for inflation. The latest rise came amid storms in the Gulf of Mexico shutting down production; political tensions in the Middle East where Turkey is threatening to send troops into Iraq and the West is threatening sanctions against Iran; tensions in Nigeria where several more attacks on oil infrastructure occurred; a weak U.S. dollar; and a generally tight supply outlook.
The Associated Press, Nov. 7, 2007.
A boost to solar power
April was a historic month for solar energy: Xcel Energy began construction on what may become the country's largest civilian solar power plant. Upon completion, the 8-megawatt plant could provide enough electricity to power approximately 1,500 homes in southern Colorado. The same month, Kohl's department stores made the largest single purchase of solar power in U.S. history. The chain will begin installing thousands of solar panels on most of its California stores. By the end of its first year of using solar power, Kohl's is likely to generate 35 million kilowatt-hours of energy.
The Associated Press, April 24, 2007; Milwaukee Journal Sentinel, April 25, 2007.
Honda sued over mileage claims
In March, a California driver filed a class action lawsuit against Honda, claiming his Honda Civic Hybrid only averaged 32 miles per gallon over 6,000 miles. This, he claimed, was much lower than the Honda Civic Hybrid's advertised fuel economy of 49 miles per gallon in the city and 51 miles per gallon on the highway. In 2008, the Environmental Protection Agency will begin using new fuel economy tests, which will likely drop a car's fuel economy by an average of 8 percent in the city and 12 percent on the highway.
Detroit News, July 6, 2007.
Fuel cells going the distance
Although touted for their zero emissions, hydrogen-powered cars are limited in the distance they can travel by the amount of hydrogen they can store. But this year these vehicles gained new ground. In May, a General Motors hydrogen fuel cell SUV drove 483 kilometers throughout New York without needing a hydrogen refill. In fact, the SUV probably had enough hydrogen to drive another 80 kilometers, officials estimate. That record was broken in September when a Toyota hydrogen-powered car drove 560 kilometers from Osaka to Tokyo, making it 25 percent more fuel-efficient than the vehicle's previous model. Next year, Honda plans to offer a new hydrogen fuel cell vehicle in Japan and the United States that can drive 435 kilometers on a single tank of hydrogen.
Detroit Free Press, May 16, 2007; Reuters, Sept. 28, 2007; Detroit News, May 11, 2007.
A new kind of hybrid
In July, East Japan Railway unveiled the world's first commercial hybrid train. Transporting people along a 79-kilometer-long route through a resort area in rural northern Japan, the two-car train boasts a 20 percent increase in fuel efficiency over conventional trains and emits 60 percent fewer emissions. But with operating costs about twice as much as regular trains, future hybrid use is uncertain.
The Associated Press, July 28, 2007.