Subscribe

Archives

Classifieds

Advertise

Customer Service

Geotimes Search
---
---
---
FEATURE — Energy Shifts
---
2007 Highlights Home page >> Energy Shifts Features >> Energy Shifts Highlights
---
A changing business climate: Q&A with Truman Semans
Congress seeks a balance: Energy and climate
Peak Ethanol
Energy Shifts: Other Highlights

---
A changing business climate: Q&A with Truman Semans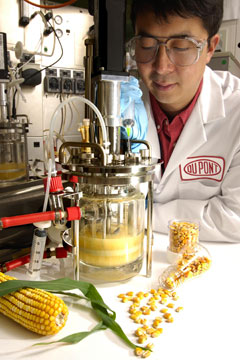 Courtesy of DuPont
Businesses became very active in climate change and energy issues this year. Some companies lobbied Congress, while others, such as DuPont, worked to develop more eco-friendly products.
Although environmentalists often take center stage when it comes to promoting the issue of climate change and touting a "green" lifestyle, businesses have had their share of the limelight in 2007. In particular, businesses have become politically active on the issue. This past year, for example, several businesses worked with environmental groups through the U.S. Climate Action Partnership to lobby Congress for the need for climate legislation, says Truman Semans, director of Markets and Business Strategy at the Pew Center on Global Climate Change (see Geotimes, April 2007). Geotimes reporter Erin Wayman talked with Semans about the relationship between business and the issue of climate change and energy.
EW: Over the past year, how have businesses gotten involved in the climate change issue?
TS: The big events this year affecting business were the [public launch] of a coalition like the U.S. Climate Action Partnership, [a collaboration between] nongovernmental organizations and top companies, [to bring] greenhouse gas recommendations and other policies to Congress and trying to get Congress to pass comprehensive climate legislation as soon as possible.
We've developed further recommendations on energy efficiency and clean coal and carbon capture and geologic storage that have affected the energy bills that were passed by Congress this summer in the House and Senate. We're working on further policy recommendations on transportation and other areas. The members of Congress and their staff are saying, "Please bring us more, we really want it and we're going to put that stuff to work."
There have been some really key events in the business community signaling that the leaders in a number of industries really see markets changing and changing fast. Those include partnerships such as ConocoPhillips and Tyson foods … to market and develop biofuels. And another example is the joint venture between BP and DuPont to develop an alternative ethanol [fuel] called biobutanol with a much greater environmental benefit.
EW: What's motivating businesses to get involved in the climate change issue?
TS: The highest ranking factors in our surveys are profitability; being in a position to influence public policy, which is going to be the main thing that shapes the way that markets change; and corporate responsibility and corporate reputation.
EW: Are there particular businesses or industries that are at the forefront of this issue?
TS: It used to be there were a couple of particular standouts, but now you're seeing really terrific efforts across high-tech manufacturing, heavy manufacturing, pharmaceuticals, IT, transportation and the electric utility sector and oil and gas. And that's just some of them. One industry that's really stepped up its efforts over the course of this year is the financial sector. We've seen major global initiatives around climate sustainability announced by Bank of America and Citigroup. [Bank of America, for example, launched a $20 billion initiative to help fund environmentally sustainable businesses last March.] Also, the U.S. insurance companies are getting much more involved (see Geotimes, February and August 2007). And a great number of institutions are taking significant steps to reduce their own [carbon] footprint as well as to spread the word.
EW: What can we expect to see in 2008?
TS: A coming to terms and a willingness to do something significant by some of those who are still opposing federal regulations on greenhouse gases, such as the coal sector and some of the remaining outliers in the utility industry … could be one really big development. I think we're on track to see the global carbon markets and the pace of investment in carbon technologies continue to accelerate over the course of 2008, and it's becoming such a large multi-billion dollar market that it's really one of the most significant developments that's happened since — and perhaps will be greater than — the Internet bubble.
Links:
"Speak Now or Forever Hold Your Peace: The Business World Looks at Climate Change," Geotimes, April 2007
"Science, Catastrophe Risk Models and Insurance," Geotimes, February 2007
"Climate change will cost us," Geotimes, August 2007

---
Congress seeks a balance: Energy and climate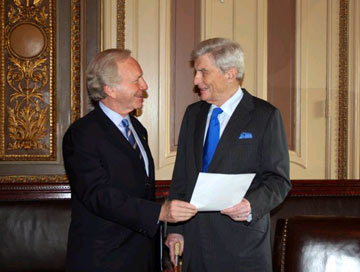 Courtesy of Joseph Lieberman
On Oct. 18, Sens. Joseph Lieberman (I-Conn.), left, and John Warner (R-Va.), right, introduced the America's Climate Security Act, a bill that they project will reduce total U.S. greenhouse-gas emissions by up to 70 percent of the 2005 level by 2050. The proposed legislation suggests that climate change and national security are intricately linked, especially because of energy.
Climate and energy may be inextricably linked — not only from a scientific perspective, but also from a policy standpoint. Following a public call to action, Congress and President George W. Bush placed both global climate change and energy policy high on their domestic agendas in 2007 — but finding "win-win" solutions will be a tricky proposition, wrote former American Geophysical Union Congressional Fellow Josh Trapani in the October Geotimes. Both the House and the Senate passed legislation this year designed to make the country more energy efficient and less dependent on other countries, and both houses are also working on climate bills. But how Congress will ultimately piece together a national market-based system to address global climate change from the current patchwork of proposals — while balancing these policies with energy policy and national security — is still unclear.
In his State of the Union speech in January, President Bush placed energy at the top of his domestic agenda, while also acknowledging global climate change for the first time (see Geotimes online, Web Extra, Jan. 25, 2007). Calling on the nation to produce more renewable fuels, research hybrid and electric cars and set new fuel economy standards in an effort to ease America's addiction to foreign oil, Bush's goal, he said, is a 20 percent reduction in consumption over the next 10 years.
Congress was listening. In June, the Senate passed its version of an energy bill that mandates the use of 36 billion gallons of renewable fuels per year by 2022 (see Geotimes online, Web Extra, June 22, 2007). The bill also calls for the first increase in corporate average fuel economy (CAFE) standards in nearly two decades, raising the fuel efficiency requirements of passenger cars and light trucks to 35 miles per gallon by 2020 — a 40 percent increase over current standards (see story, this issue).
But reconciling energy and climate policies remains thorny. The House did not include any provision for a CAFE increase when it passed its energy bill in August, and also differed from the Senate's bill in requiring utilities to use renewable energy sources for at least 15 percent of the power they provide to consumers by 2020. The House bill also raises taxes on the oil industry by more than $15 billion in an effort to bankroll a variety of renewable energy and energy efficiency tax credits. This fall, members of the House and Senate began to discuss ways to reconcile the two energy bills, but it remains to be seen whether the oil industry taxes or the contentious CAFE standards will make it into the final version that will be sent to President Bush.
Furthermore, with a new Democratic majority in both the House and Senate, Congress also stated in January that global climate change is one of its top priorities, creating new committees and subcommittees to study how to move to a low-carbon energy market (see Geotimes, March 2007). At a hearing held by the Senate Environment and Public Works Committee earlier this year, many testifying senators called for action on climate change, citing the Intergovernmental Panel on Climate Change report from February (see story, this issue) and the U.S. Climate Action Partnership (USCAP), an alliance of businesses and environmental groups lobbying for market-based approaches to greenhouse gas emissions legislation (see story, this issue, and Geotimes, April 2007).
As states like California and Vermont have begun to take action to regulate greenhouse gas emissions within their own territories (see story, this issue), Congress continues to navigate a number of proposals to establish federal guidelines to regulate greenhouse gas emissions (see Geotimes, May 2007). Most would use a cap-and-trade system, which USCAP also favors, but otherwise are widely variable in their approaches, from targeting specific sectors (such as electricity, transportation and manufacturing) to establishing different reduction percentages and target dates.
Meanwhile, the ambitious goals set by President Bush and Congress for alternative fuels have made scientists and industry representatives alike skeptical: The auto industry says the Senate's proposal may not be economically feasible and could harm American automakers. Furthermore, producing that much ethanol may not be technically feasible either, as it would require technological breakthroughs and the devotion of more land and resources to its production than is currently available, according to Bob Greco, a spokesman for the American Petroleum Institute. And biofuels may not be as clean as widely touted either, according to several recent studies (see story, this issue).
Although the future of the House and Senate energy bills is uncertain, the 110th Congress did successfully pass one major piece of energy legislation this year. In August, President Bush signed into law "The America Creating Opportunities to Meaningfully Promote Excellence in Technology, Education and Science Act," otherwise known as the "America COMPETES Act" (see Geotimes, November 2007). In addition to providing more funding for math and science research and promoting educational opportunities in these fields, the act creates a new research agency within the Department of Energy: the Advanced Research Projects Agency for Energy (ARPA-E). The program is meant to help the country become more energy independent by funding long-term, high-risk energy research projects that the private sector is unlikely to undertake on its own. Through these efforts, the agency's goal is to decrease the country's dependence on foreign energy by 20 percent over a 10-year period.
Links:
"Bush renews call for renewable fuels," Geotimes online, Web Extra, Jan. 25, 2007
"Senate passes energy bill," Geotimes online, Web Extra, June 22, 2007
"Carbon dioxide CAFE," Geotimes, December 2007
"A Change in Climate in Congress: To Act or Not To Act," Geotimes, March 2007
"Change in Climate: Q&A with Margaret Leinen," Geotimes, December 2007
"A changing business climate: Q&A with Truman Semans," Geotimes, December 2007
"Speak Now or Forever Hold Your Peace: The Business World Looks at Climate Change," Geotimes, April 2007
"Proposals to Regulate Greenhouse Gas Emissions in the 110th Congress," Geotimes, May 2007
"Peak Ethanol," Geotimes, December 2007
"Science Legislation: America COMPETES, Geeks Rule and Everybody Wins," Geotimes, November 2007

---
Peak Ethanol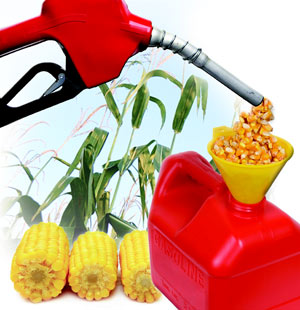 Courtesy of the Pacific Northwest National Laboratory
Many people think corn ethanol, used to make biofuels for cars, is one answer to our energy problems. But ethanol faced many obstacles this past year, including falling prices and claims that it could be just as bad — if not worse for — the environment as fossil fuels.
Previously touted as a solution to our dependence on foreign oil and as a "green" alternative to fossil fuels, corn ethanol took a big hit in 2007. The assault on ethanol came from all sides, as the plant derivative was blamed for rising food prices and identified as a potential health and environmental problem. "As a fuel, [ethanol's future] is not so bright," says Tad Patzek, a geoengineering professor at the University of California at Berkeley. "It's a disaster unfolding."
The United States Department of Agriculture (USDA) estimated more than one-quarter of the nation's 13.3 billion bushels of corn would be converted into ethanol by the end of 2007, according to Greenwire on Oct. 3, leaving less corn available for human and livestock consumption and driving up the price of corn. In January, for example, a bushel of corn cost more than $4 — up 50 percent compared to the previous January.
Meat and dairy producers warned that the higher costs of raising livestock would be passed on to consumers in the form of higher food prices, and they implored Congress to ease up on ethanol subsidies. By the end of the year, USDA estimated, food prices would increase by 3.5 to 4.5 percent, Greenwire reported on Oct. 3.
Not everyone blamed ethanol for the higher cost of food, however. Unfavorable weather conditions caused wheat and soybean shortages, and high oil prices led to increased transportation costs. "Ethanol is unfairly getting a bad rap," economist Terry Francl of the American Farm Bureau Federation told Greenwire on July 9, "because people aren't looking at the other factors that are involved in food prices."
But while the price of corn stayed high throughout the year, the price of ethanol began to plummet. By fall, the national average price of ethanol dropped to below $2 per gallon, down 30 percent from the beginning of the summer. Fueled by tax incentives, the U.S. ethanol industry created a surplus this year, producing 7.6 billion gallons compared to the 6 billion gallons currently consumed by Americans. And that production capacity may climb to 12 billion gallons by the end of next year.
In part, supply outpaced demand because of distribution obstacles. Unlike oil, ethanol can't be transported through a pipeline network because it corrodes the pipes (see Geotimes, March 2007), which means it must be delivered across the country via more expensive trucks and rail cars. And there weren't enough trucks and rail cars to go around last year, The New York Times reported Sept. 30.
But there may be a silver lining for ethanol proponents: In October, Citigroup predicted ethanol prices should recover by early 2008, as ethanol production levels off.
Perhaps more troubling than ethanol's economic woes, however, are critics' claims that it may not be a truly clean, safe alternative to fossil fuels. In April, Mark Jacobson, an atmospheric researcher at Stanford University in Palo Alto, Calif., published a study in Environmental Science & Technology that showed emissions from cars running on E85, a fuel blend of 85 percent ethanol and 15 percent gasoline, could be even more hazardous to human health than emissions from cars running on regular gasoline (see Geotimes, July 2007).
Using an atmospheric model of air quality if U.S. vehicles were replaced by ones running purely on E85 in 2020, Jacobson found that ozone-related deaths across the country would increase by as much as 4 percent and would increase by as much as 9 percent in Los Angeles alone. Trips to emergency rooms due to asthma and other breathing difficulties would also increase. "It's not a clean fuel," David Pimentel, an ecology and agricultural science professor at Cornell University in Ithaca, N.Y., told Geotimes in July, referring to efforts to paint ethanol as a cleaner alternative to fossil fuels as a "major boondoggle."
In August, ethanol's environmentally friendly image took another hit. In an Aug. 17 article in Science, Renton Righelato of the World Land Trust and Dominick Spracklen of the University of Leeds in the United Kingdom challenged claims that using biofuels is a good way to stave off climate change through carbon mitigation. Proponents of ethanol say biofuels emit less carbon into the atmosphere than fossil fuels. But Righelato and Spracklen suggest the world's current area of farmland is not large enough to produce both food and the amount of crops necessary to make enough biofuel to substantially offset carbon emissions from fossil fuels. The team speculates that large areas of forest and grassland would need to be cleared to make way for increased levels of biofuel production — which is counterproductive.
Furthermore, considering a 30-year time period, Righelato and Spracklen calculated that if the amount of land needed to grow crops for these biofuels, including corn for ethanol, were instead converted to forests, more carbon would be sequestered than the amount of carbon emissions avoided by using biofuels instead of fossil fuels.
Finally, on Oct. 10, a committee of the National Research Council released a report looking at the effect of ethanol production on the nation's water resources — not a pretty picture, the report said (see story, this issue).
Taken as a whole, the events of 2007 suggest corn ethanol may not be an easy fix to our energy problems. Instead, Patzek suggests we should take a more basic approach. "We need to sober up and start conserving energy," he says. "We need to change our outlook on consumption."
Links:
"Integrating Biofuels into the Fuel Supply," Geotimes, March 2007
"A blight on ethanol," Geotimes, July 2007
"Water problems ahead if ethanol continues to expand," Geotimes, December 2007
"Agriculture consuming world's water," Geotimes, June 2007