Earth Science & National Security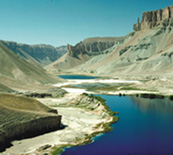 Afghanistan: Geology in a Troubled Land
J. Stephen Schindler
Geology adventures in Afghanistan: An interview with Jack Shroder
Lisa M. Pinsker

CAREERS FOCUS:
Earth Scientists and National Security
Geotimes Staff

Military Geology in a Changing World
William Leith

Coming Soon...
March: Nuclear legacy
April: Annual geoscience policy issue
Announcing
Archived Web Extras are now available online! Read past weekly news items in the geosciences.
ATTENTION STUDENTS:
Do you love science and like to write?



Feb. 19
Make way for duck-croc
Feb. 16
Bush approves Yucca Mountain as nuclear waste repository
Feb. 8
Olympic earthquake watchers
Feb. 5
Bush budget would reshuffle geoscience
Feb. 4
Confusion corner: Antarctica

News Notes
Cracking Abrupt Climate Change


A sudden warming in the past
Climate Change on Mars
A complicated iron core
Field Notes

Political Scene
Anthrax in the House
A geoscience fellow finds her expertise all too relevant.
Katy Makeig

Geophenomena

The yearís first big one a shudder
Australian fires contained
Moving in on danger
Web sites for Earth watchers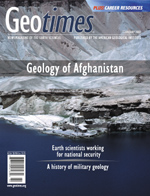 ON THE COVER: The Band-i-Haibat is one of the largest self-damming lakes of Band-i-Amir (Dam of the King) and sits in the Hazarajat area of central Afghanistan. The Hazara people believe that Mohammedís son-in-law, Caliph ĎAli, built the eight tufa dams and lakes of Band-i-Amir for drought relief. This lake is located near the Bamiyan Buddhas that the Taliban destroyed last March. Photo provided courtesy of Jack Shroder, University of Nebraska. Read story.
Print Table of Contents

From the Editor
Where on Earth?
Society Page
Geomedia
Calendar
Classifieds