Our Nuclear Legacy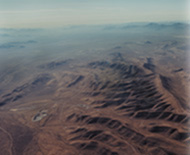 In Search of Water:
An Update on Yucca Mountain Studies
DOE researchers summarize the work they've done to learn how water moves through Yucca Mountain, Nevada, the proposed site for the long-term storage of high-level nuclear waste.
Russ Dyer, Abe Van Luik, Ron Linden
and Rick Salness

COMMENT
Yucca Mountain: Politics over Sound Science
Scientific evidence is not complete enough to decide on Yucca Mountain.
The Honorable Harry Reid

Nuclear Stewardship:
Lessons from a Not-So-Remote Island
The United States set off three underground nuclear tests between 1965 and 1971 at Amchitka Island, which lies in one of the country's most seismically active regions.
John Eichelberger, Jeff Freymueller, Graham Hill
and Matt Patrick

After the Cleanup: Isolating Waste for the Long-Term
Recognizing that we cannot just walk away from a site after the cleanup is complete
Susan Bucci Mockler


Coming Soon...
April: Annual geoscience policy issue
May: Water

Announcing
STUDENTS: Read our special careers page.
ATTENTION STUDENTS:
Do you love science and like to write?



March 26
Shallow earthquake hits Afghanistan
March 22
Molar fossil hints at double evolution
March 19
Antarctic ice shelf collapses
March 15
Something in the water
March 6
Powerful quake shakes the Philippines
March 4
$150 million for the geosciences
March 4
*Large earthquake hits Afghanistan
*story updated since intial posting
News Notes


Iron from below, not above
Triggering quakes with waste
Impressions of giant jellyfish
Confusion corner: Antarctica
Fossils clocked at tuna speed
Field Notes

Political Scene
Taking Aim at a Defense Budget
The president's budget is right to focus on national security. But that focus should not leave geoscience out in the cold.
David Applegate and Margaret Baker

Geoscience Education
Geoscientists Defend Earth Science in Texas
Getting earth science back into the Texas high school curriculum
David M. Lawrence
Geophenomena
Mount Pinatubo: A Natural Climate Experiment


Mount Pinatubo's 1991 eruption hit the atmosphere harder than any other in the 20th century.
Lisa M. Pinsker

On Exhibit
100 Years of Science History
The Carnegie Institution celebrates its hundredth anniversary.
Josh Chamot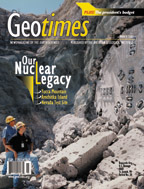 ON THE COVER
Scientists on the Yucca Mountain Project used this tunnel-boring machine, or TBM, to create an underground laboratory within Nevada's Yucca Mountain, called an Exploratory Studies Facility. For the past two decades, the Department of Energy has been investigating how well nuclear waste can be contained in Yucca Mountain. The TBM, which is 25 feet wide, began its five-mile journey in September 1994. "Day lighting" occurred in the spring of 1997. Courtesy of DOE. Read story.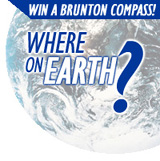 Print Table of Contents
From the Editor
Where on Earth?
Society Page
Geomedia
Calendar
Classifieds