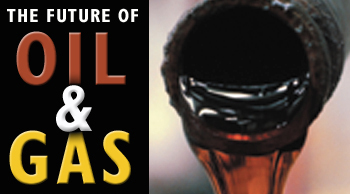 Global Petroleum Resources: A View to the Future
Amidst news reports that the world might soon hit its peak oil supply, two U.S. Geological Survey experts describe why determining how much oil and gas remain to be tapped is a task that is far from clear and easy.
Thomas S. Ahlbrandt and Peter J. McCabe
Domestic Natural Gas: The Coming Methane Economy
We will soon pass from an economy that primarily uses carbon-based fuels to one that primarily uses hydrogen-based fuels. What will hold us over during the transition?
William L. Fisher
Coming Soon...
December: Mid-ocean ridges
January: Research at the poles
February: Geology underground

Announcing
Energy Notes: Read this month's energy notes and link to a new archive of past energy numbers!
Students: Read our special careers page.




November 27
Inspectors armed with geophysics
November 22
Governments agree to stop conflict diamonds
November 15
Plants mop arsenic
November 8
Debating evidence for early life
November 4
Huge Alaska quake making waves
November 1
Natural disasters strike in Italy

Webextras Archive
News Notes


Rivers of gold
Evolution opponents score in Georgia
Many quakes, one theory
Pipeline proposal promises new life for the Dead Sea
Dinosaurs' world up in flames
Inorganic oil: Much ado about nothing?

Comment
A New Solution to the Uncertain Fate of a Geologist's Library
What will become of the libraries of retired geologists?
George D. Klein

Political Scene
Homeland Security, Broadly Defined
How much will a federal Department of Homeland Security affect the geosciences?
David Applegate

Geophenomena
Glacial valley avalanche in Russia
China's air needs a chimney sweep



Energy and Resources
Coalbed Methane
Talk is increasing on coalbed methane as the future of U.S. natural gas.
Lisa M. Pinsker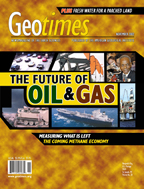 ON THE COVER
Photo montage created by Mark Shaver. Image sources are, clockwise from left: traffic in Detroit, Ohio (AGI files); The Suncor Energy Inc. oil sands plant near Fort McMurray, Alberta, Canada (Mika Madunicky/Alberta Energy and Utilities Board); OPEC President Rilwanu Lukman before a Sept. 19 OPEC meeting in Japan (Koji Sasahara/Associated Press); the Hibernia Platform on the Grand Banks (from Hibernia Management and Development Inc.); the oil tanker Polar Endeavour on its way to Port of Valdez, Alaska, in July (Associated Press/Phillips Alaska Inc.); an Amtrac from the U.S. Marines Second Division Feb. 24, 1991, near the Saudi-Kuwait border prior to the start of the ground war against Iraq. (Associated Press/Sakayuki Mikami).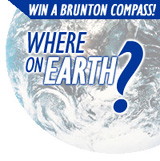 Print Table of Contents
From the Editor
Where on Earth?
Society Page
In Memoriam
Geomedia
Calendar
Classifieds
On Exhibit