Connecting with the River
In Hartford, Conn., an innovative program is teaching students from varied backgrounds about their local river ways. In the water and in the lab, they're getting excited about earth science.
Suzanne O'Connell et al.
Reaching Out to Communities and Kids with Science
San Francisco Bay Area teachers and students are also connecting with their watersheds — through SF-ROCKS, a program aimed at encouraging ethnic minority participation in the geosciences.
Lisa D. White et al.


September 26
Giant earthquake hits Japan
September 26
A new era in ocean drilling
September 18
Final mission for Galileo
September 12
Evolution debate continues in Texas
August 28
Climate change report reexamined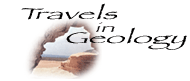 Taking a trip? Visit Travels in Geology to find geologically significant places to visit.

News Notes
A muddy picture for the Great Lakes
Zircons reveal early mantle evolution
Weathering climate change
Climate debate in the journals, on the Hill
Dinosaur skeletons in the closet
Textbook battle over evolution

Geophenomena
Cooling Mali's volcanism
Lightning links to ozone over Africa
Comment
Calling All Earth Scientists to the Fair
Some young geoscientists strut their stuff at this year's International Science and Engineering Fair, but the earth sciences as a whole remain sorely underrepresented — a challenge we must all help meet.
Don Byerly

Political Scene
Opposition to Evolution Takes Many Forms
Over the past 16 years, the tactics of those opposed to teaching evolution in the nation's schools have changed. Their goal, however, has not.
David Applegate

Geological Column
Manned Space Exploration: Should We Give it Up?
Seven months after the Columbia tragedy, reflection continues on the true value of sending people into space.
Fred Schwab
Profiles
Jim Davis: Lessons from Josiah Whitney

Energy & Resources
Mineral Resource of the Month: Platinum-group metals



Check out this month's Energy Notes!

Geomedia
The Chicago Guide to Communicating Science
Lewis and Clark: A Legacy of Science
Glacier DVD accolade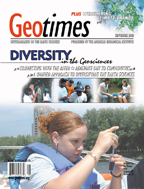 ON THE COVER
Photo montage: High school students discuss their posters at a special session at the 2002 meeting of the American Geophysical Union (left photo, by Harvey Leifert, AGU); students in Hartford, Conn., connect with their local watersheds as part of hands-on program to enhance minority participation in the geosciences (two right photos and background, courtesy of Suzanne O'Connell). Read story on the watershed program.
Coming Soon...
October: Rebuilding Iraq
November: Remote Sensing
Visit our searchable archive.