Subscribe

Archives

Classifieds

Advertise

Customer Service

Geotimes Search
---
---
---
HIGHLIGHTS — A Changing Climate
---
2007 Highlights Home page >> A Changing Climate Features >> A Changing Climate Highlights
---
The famous faces of climate change
A Changing Climate: Headline News Stories

---
The famous faces of climate change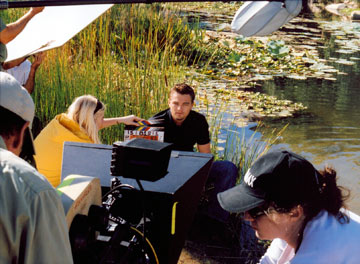 Chuck Castleberry © 2007 Eleventeen Productions, LLC
Actor Leonardo DiCaprio produced and narrated The 11th Hour, a feature-length documentary on climate change released in August by Warner Independent Pictures. DiCaprio, shown here during filming, is one of many celebrities who have become activists for climate change.
In 2006, climate change became a cause célèbre. Making people aware that the Arctic is warming and encouraging action — that's a big part of the message — became en vogue among the latest stars and celebrities looking for a cause to champion. In 2007, more celebrities jumped on the climate change bandwagon as rock concerts were held to bring attention to the movement, new documentaries were made and Nobel prizes were awarded.
Former Vice President-turned-climate-campaigner Al Gore had one heck of a year. In February, Gore won an Oscar for his film An Inconvenient Truth. In October, he — along with the Intergovernmental Panel on Climate Change — won the Nobel Peace Prize for their work on climate change: Gore for his activism and the panel for their rigorous scientific work. It wasn't all rosy, however: Though earlier in the year the British government ruled that An Inconvenient Truth was to be shown in every secondary school in the United Kingdom, in October, a British judge ruled that it is in fact against British laws to show the movie without disclaimers, because of 11 specific scientific discrepancies in the film. Still, praised — and criticized — around the world, the film and book of the same name and the Nobel prize have brought Gore a celebrity status he never dreamed of as a politician.
On July 7, Gore gathered more than 100 bands and celebrities for Live Earth, a series of rock concerts around the world hosted by the Alliance for Climate Protection (chaired by Gore). Concerts were held in London, Tokyo, Shanghai, Rio de Janeiro, Sydney, Johannesburg, Hamburg, East Rutherford, N.J., and Antarctica. Although the major cities headlined famous acts such as Snoop Dogg, Enrique Iglesias, Bon Jovi and Dave Matthews Band, perhaps the "coolest" concert was in Antarctica, where a five-person band of Antarctic scientists performed for their 17 colleagues (see Geotimes online, Web Extra, July 5, 2007). The concerts were quite popular, but critics lambasted the production for a few "green" inconsistencies: namely, the amount of greenhouse gases produced by people flying and driving to the concerts and by the lights and electricity used for the concerts themselves, which one estimate said required 100,000 trees to be planted just to offset, as reported by ABC News on July 9.
Celebrities have also been adding their famous faces and voices to movies and documentaries publicizing the effects of climate change (see Geotimes, June 2007). The latest such film, The 11th Hour, produced and narrated by Leonardo DiCaprio, hit theaters in August. In it, DiCaprio says, "The evidence is now clear: Industrial civilization has caused irreparable damage."
Links:
"Live Earth: Scientists rock Antarctica," Geotimes online, Web Extra, July 5, 2007
"What's Hot in Documentaries? Climate Change," Geotimes, June 2007

---
A Changing Climate: Headline News Stories
Where rain will fall
The Intergovernmental Panel on Climate Change's (IPCC) Fourth Assessment Report projects that rainy landscapes will get wetter, while arid landscapes will get drier as the world's rainfall patterns alter due to climate change. More moisture added to the atmosphere from melting ice caps will increase rainfall in higher latitudes, but evaporation in lower latitudes will counter that effect, so the subtropics will get drier.
Geotimes, April 2007; IPCC Fourth Assessment Report, Feb. 2, 2007.
Scientists compete for climate prize
Richard Branson, chair of Virgin Group, is offering a $25 million prize for the scientist who comes up with a viable way to capture and remove greenhouse gases from the atmosphere. Branson also announced an investment of $400 million in green energy projects over the next three years.
The Associated Press, Feb. 9, 2007.
Melting Greenland
Satellite observations of Greenland's ice sheet show that the island had more "snowmelt days" in 2006 than its average over the past 18 years. Furthermore, the melting occurred at altitudes higher than average. The meltwater may not only contribute to sea-level rise directly, but may also speed the flow of ice sheets sliding into the ocean.
Geotimes online, Web Extra, June 7, 2007; Tedesco, Eos, May 29, 2007.
Icebergs at bottom of food chain
Melting icebergs could be sources of nutrients to organisms in the ocean. Icebergs in the Weddell Sea off of Antarctica are surrounded by halos of thriving phytoplankton communities as well as higher organisms such as krill and seabirds. The icebergs carry embedded terrestrial material in the ice, which, once melted, could provide trace elements to the creatures. Whether icebergs of different sizes, or in other places such as the Ross Sea, have the same effect is not yet known.
Geotimes, September 2007; Smith et al., Science, June 22, 2007.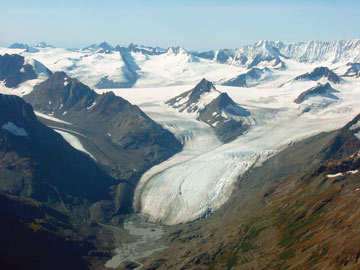 Copyright Bruce Molnia, Terra Photographics;
Courtesy of Earth Science World Image Bank.
Melting glaciers, such as these retreating valley glaciers in the Chugach Mountains, Alaska, will contribute more to rising sea levels over the next century than the great ice sheets of Antarctica and Greenland, research suggests.
Don't ignore the glaciers
Although the great ice sheets atop Greenland and Antarctica contain much more potential water if melted, continental glaciers that are melting will actually be a bigger contributor to sea-level rise over the next century, according to Mark Meier at the University of Colorado at Boulder. The glaciers, which may flow faster as they get thinner, could add 10 to 25 centimeters to global sea level — small compared to the potential rise if the ice caps melt, but still a significant threat to many coastal communities.
Meier et al., Science Express, July 19, 2007.
Alaska getting smaller too
Parts of northern Alaska are crumbling into the sea as waves erode its permafrost cliffs. U.S. Geological Survey researchers reported in July that coastal erosion rates in the area are rising, due to melting permafrost that forms shallow lakes and creates new bays, and because of the absence of ice caps that once protected the coastline. Within the study area, the coastline loses an area equal to about 200 football fields each year.
Geotimes, September 2007; Mars et al., Geology, July 2007.
Soot heats up the air
Sooty brown clouds caused by the burning of coal and other organic materials in India, China and other parts of South Asia may be responsible for some of the atmospheric warming that had previously been attributed to greenhouse gases. Suspended particles in the atmosphere can have a cooling effect because they reflect radiation back into space, but black carbon from soot absorbs radiation and heats the atmosphere.
Geotimes online, Web Extra, Aug. 3, 2007; Ramanathan, Nature, Aug. 2, 2007.
Climate makes unlikely allies
Some evangelicals and scientists are joining forces to address climate change. Following a three-day retreat to discuss the issues, a group of 30 scientists and evangelicals sent a statement to President Bush in January, calling for action on climate change issues such as reduction of greenhouse gas emissions. More steps are planned to keep the two groups working together, including a speaking tour and developing teaching guides on climate change for Sunday School classes. Meanwhile, in July, the Vatican announced that it will become the world's first carbon-neutral sovereign state, installing solar panels on rooftops, considering recycling programs, using energy-saving light bulbs and operating an electric vehicle charging station.
Geotimes, September 2007.
Arctic sea ice at record lows
This summer, the extent of Arctic sea ice shrank to its lowest point since 1979 when record-keeping began. By Sept. 16, the area of sea ice was 4.13 million square kilometers, well-below the 30-year average.
University of Colorado at Boulder press release, Sept. 20, 2007.
Acidifying oceans
In addition to carbon dioxide, sulfur and nitrogen added to the atmosphere from fossil fuel burning are making Earth's oceans more acidic, research shows. The effect is most significant along coastlines, where acid rain is affecting the water's carbonate chemistry, which can harm shell-forming animals and plants in those waters.
Geotimes, November 2007; Doney et al., Proceedings of the National Academy of Sciences, Sept. 11, 2007.