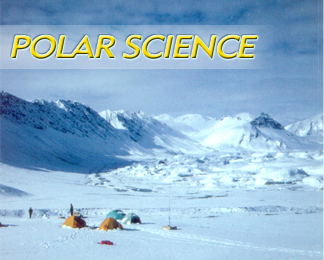 Research in the Coldest Desert
Antarctica's McMurdo Dry Valleys are extremely cold and dry. But life exists here nonetheless, and a multidisciplinary team of scientists is working to understand how.
Berry Lyons
Investigating an Arctic Gateway
About 20,000 years ago, sea level in the western Arctic dropped, and the Bering Strait was a land bridge. The history of how sea level has risen and fallen in this area is just one piece in understanding the puzzle of Earth's climate.
Julie Brigham-Grette, Lloyd Keigwin and Neal Driscoll
From Magnetism to Meteorites
Earth's highest latitudes hold clues about the future of the magnetic field, the fate of ice sheets and the history of the solar system.
Geotimes Staff
Coming Soon...
February: Geology underground
March: Burying carbon dioxide

Announcing
Energy Notes: Read this month's energy notes and link to a new archive of past energy numbers!
Students: Read our special careers page.




January 31
Everglades science management under scrutiny
January 24
Arctic bounty of underwater plumes
January 22
Earthquake hits Mexico
January 14
Unknown life at hydrothermal vents
January 13
Polar satellite takes to the sky
January 3
Asbestos under wraps

Webextras Archive
News Notes

Paleontology in the parks
Biotechnology peers into
fossils' past
Whales beach seismic research
El Niño gives Earth new spin
Tales from a warming Arctic

Comment
Polar Research: A Global Endeavor
Scientists from many disciplines and countries are working at the poles to understand drivers of climate change.
Karl A. Erb

Political Scene
New Congress Faces Same Issues
When the 108th Congress convenes this month, lawmakers will face unfinished business.
David Applegate

Geoscience Education
Prepare for the Science Fair!
Today's science fair students are asking pointed questions about the environment and using modern scientific tools to answer them.
Christina Reed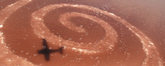 Geophenomena
A Geophenomena special exhibit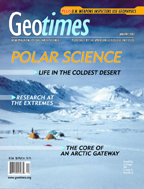 ON THE COVER
Researchers at the University of Rochester's base camp on Agate Fjord in the western Axel Heiberg Island, Nunavut, High Canadian Arctic. The ridges in the background are Cretaceous basalts that preserve a record of Earth's ancient geomagnetic field. Read a related story online later this month. Photo supplied courtesy of John A. Tarduno, University of Rochester.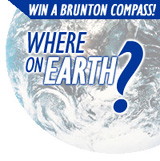 Print Table of Contents
From the Editor
Where on Earth?
Society Page
Geomedia
Calendar
Classifieds
On Exhibit