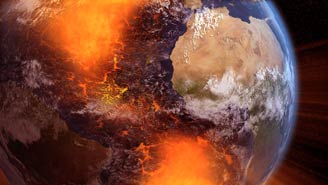 X-ray Eyes in the Sky
Scientists are working on satellites that will see far below the planet's surface, to better understand the structure and composition of Earth's crust, mantle and core.
Carolyn Gramling
---
Riding the Wilson Cycle
Print Exclusive
The theory of plate tectonics continues to evolve. Now, new research is answering some of the most exciting lingering questions about the evolution of continents, and the operation of plate tectonics itself.
Paul Silver
Boldly Going Deeper Into Earth Print Exclusive
As we look closer and in ever greater detail at the crust and mantle, we are discovering that the interior layers of Earth are far more interesting and enigmatic than those depicted in classical models.
Robert van der Hilst
---
DOWN TO EARTH WITH...
Geophysicist Ross Stein
GEOMEDIA
Sizing up Earthquake Damage: Differing Points of View
When earthquakes strike, researchers, emergency responders and the media all hit the scene. Their reports of the very same event may differ greatly, however. Researchers need to be aware of the so-called media bias when examining historical earthquakes.
Susan Hough with Anne Bolen
BENCHMARKS
July 10, 1962: Telstar launches age of satellite communications Print Exclusive
TRENDS & INNOVATIONS
Ice Voted off Warming Island Print Exclusive
As the climate changes, new real estate is revealed, such as Warming Island off the coast of Greenland. Explorers and entrepreneurs are taking advantage of the situation and offering tours to the new locales.
Kathryn Hansen
EDUCATION & OUTREACH
On the Cutting Edge of Teaching About Early Earth
Geoscience faculty come together to learn the latest research in complex topics such as the formation of Earth — and to learn from each other how to best teach the topic to undergraduate students.
Cathryn A. Manduca
A POLITICAL COMMENT ON...
The Life of a Bill
How bills become law is a complex process to say the least: Here's a primer to make sense of it all.
Allyson K. Anderson
GEOLOGIC COLUMN
The Magic in Dirt
Geologists know there is magic in dirt, but so too, do locals in places such as Chimayó, N.M., where the soil takes on a spiritual, healing mystique.
Lisa A. Rossbacher and Dallas D. Rhodes
---

Check out this month's Energy Notes!
---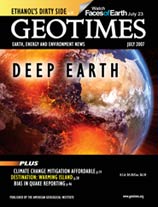 ON THE COVER




An artistic interpretation from the "Faces of Earth" television series of a semi-transparent Earth looking toward the core. AGI/Meteor Studios

.

NEXT MONTH
Waterway Restoration