Past Climates, Future Change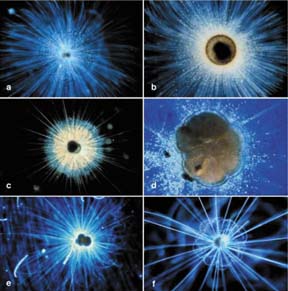 The December Geotimes features stories on the geosciences and climate change.



Lake Titicaca: An archive of South American Paleoclimate
Researchers are drilling sediments in Lake Titicaca to understand South America's climate changes on short timescales.
Paul Baker et al.

Global Climate Change: A glance in the rearview mirror
Just how far back does the geologic record take us in understanding Earth's past climate? And, link to a bibliography of articles that demonstrate recent advances in climate proxies and how these geological tools are helping us understand Earth's past climate.
Matt Huber

Coming Soon...
January: Special issue on soils
February: Geology careers in the military


Announcing
Geomedia's popular On the Web links are now available by topic! Visit these recommended earth science friendly Web sites.

Dec. 27

Russia propses continental margin extension
Dec. 18
Lighting up the Atmosphere
Dec. 12
*USGS Internet Block Stopped
Dec. 4
New U.S. support for Law of the Sea
Dec. 3
Seismicity from Sept. 11
*story has been updated since initial posting
News Notes
Reconstructing Martian geologic history


Storing coal slurry
Macro-evolution at its finest
Shelling out new climate data
Sea level today and tomorrow
Field Notes

Comment
To Predict the Unpredictable
The more we learn about Earth's past climate, the more complex the picture becomes.
Steven M. Stanley
Political Scene
A Fellow's Welcome to Washington
A new Congressional Science Fellow recounts coming to the Hill in the wake of Sept. 11.
David Curtiss


Geophenomena
Security Measures on Tap
Bolstering water supplies against terrorism.
Christina Reed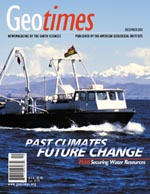 ON THE COVER: The USGS Neecho cruises on Lake Titicaca high in the Andes with the Cordillera Real in the background. The vessel is equipped with a drill core that will sample the lake's sediments for clues to past climate. Photo supplied courtesy of Paul Baker, Duke University. Read story here.
Print Table of Contents

From the Editor
Where on Earth?
Society Page
Geomedia
Calendar
Classifieds