December 30
Unnecessary devastation in Iran
December 23
San Simeon earthquake
December 19
Humans impact climate, AGU says
December 16
Touring tectonics in Iceland
December 12
A year of global ice observations
December 10
Cascading earthquakes in L.A.
December 4
Ultraslow spreading centers

Webextras Archive


News Notes
Glacial earthquakes
Super-hard graphite
Skiing and mining intersect in Colorado
Vertebrates and tectonics
La Niña controls Amazon floodplain
Cool Cambrian triggers life

Geophenomena
Unknown future for coral reefs

Technology
Fingerprinting a Diamond's Source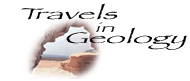 Taking a trip?
Check out Travels in Geology to find geologically significant places to visit.
Comment
Tracking Material Flows Can Strengthen Public Policy
To better manage resources in the United States, policy-makers need to understand the flow of materials from the time of extraction to use and disposal or reuse.
R. Larry Grayson

Political Scene
Water is for Fightin'
The High Plains aquifer could be a casualty in a political battle to prevent coordinated scientific characterization of this important groundwater system.
David Applegate

For Students
Applied Geology in Service of the Public Welfare
Engineering geologists play a crucial role in providing geological information to the public.
Allen W. Hatheway, Richard J. Proctor and David B. Simon
Geologic Column
Coffee, Tea or Phi?
Coffee is not only vital to the day-to-day functioning of geologists. It is also an important tool for modeling and understanding earth processes.
Lisa Rossbacher
Profiles
Geoscience fellows climb the Hill

Energy & Resources
Fluorspar



Check out this month's Energy Notes!

Geomedia
On the Shelf for the Holidays
On the Web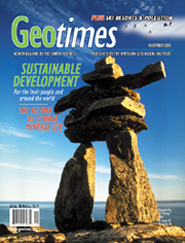 ON THE COVER
An Inukshuk (ee-nook-shook) is a pile of stones that represents a person, as pictured here in Nunavut, the new Canadian territory for the Inuit people. These structures are traditional landmarks in the Arctic region, where there are no trees and few distinguishing features to use for reference while traveling. The orientation of the stones may also give guidance by marking a trail on the tundra. Read about development in the Inuit territory. Image courtesy of the Governments of the Northwest Territories and Nunavut.
Coming Soon...
January: Impacts
Visit our searchable archive.