Subscribe

Archives

Classifieds

Advertise

Customer Service

Geotimes Search
---
---
---
HIGHLIGHTS — Hazards
---
2007 Highlights Home page >> Hazards Features >> Hazards Highlights
---
Greece Burns, Southern Europe Swelters
Inferno in Southern California
Dust Bowl, redux?
Storms Bring Floods to United Kingdom
Mud still erupting in Indonesia
Earthquakes Imperil Many
Hazards: Headline News Stories

---
Greece Burns, Southern Europe Swelters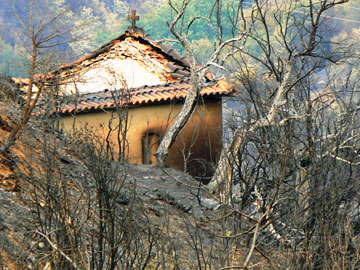 Copyright Nina Stavlund 2007

Fires showed no mercy in Greece last summer, burning through modern towns as quickly as ancient ruins, such as near Taygetos Mountain in southern Greece.
The 2007 fire season in Greece was the worst on record, according to Greek authorities. A sweltering heat wave that struck Southern Europe in the summer combined with an intense drought across much of the region to parch forests and scrublands. More than 3,000 fires swept through Greece this year, including a series of more than 170 fires in August that killed dozens of people and threatened or burned through 3,000-year-old ruins, especially on the Peloponnese Peninsula, according to The Associated Press (AP), Aug. 25. Meanwhile, fires blazed across Italy, Bulgaria and much of Macedonia, where temperatures reached 45 degrees Celsius (114 degrees Fahrenheit), AP reported July 26.
Government officials in Greece and Italy blamed at least a few of the fires on arsonists trying to clear land for development, as Greece and Italy have laws forbidding forestland from being developed, but if the land were no longer forest, people thought that development could perhaps go forth.
In Romania, the drought and heat wave destroyed some $2 billion worth of crops and killed dozens of people. As wells dried up, many communities across the region were left without drinkable water. In Albania, some residents dealt with water shortages by having municipal water for only two hours a day, while others had to contend with power cuts for up to 15 hours a day for more than a month, according to AP.
---
Inferno in Southern California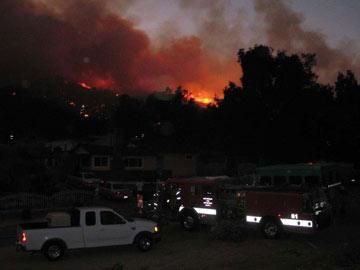 Stanton Florea
More than half a million acres in Southern California went up in flames in late October. The Ranch Wildland Fire, pictured here, burned more than 58,400 acres in and around Angeles National Forest.
When the hot Santa Ana winds started blowing across Southern California in late October, fires raged, thanks in large part to a severe drought that left the region with rainfall almost 23 centimeters below normal. As of Oct. 30, well more than half a million acres had burned in two dozen separate fires across seven counties, with more than half of the damage in San Diego County alone, according to the California Department of Forestry and Protection. At least seven people died, 130 were injured, and almost 3,000 homes and structures were destroyed, according to the California Office of Emergency Services on Oct. 30. Insurers and financial analysts estimate the costs to insurers will top $1 billion.
Things could have been a lot worse, however, if not for preparedness tactics implemented following the 2003 fires in Southern California that burned 750,000 acres and 3,640 homes. One intriguing tactic undertaken by the town of Rancho Santa Fe, Calif., is to design homes and landscaping so that residents can "shelter-in-place" — ride out the fires in their homes instead of evacuating — and so their houses will be "ignition-resistant," The Associated Press (AP) reported Oct. 29. The extremely strict construction and landscaping standards adopted by the community in 1997, such as installing nonflammable roofs, indoor sprinklers and restricting the types and sizes of landscaping vegetation, may become more widespread in the wake of this year's fire season, given that none of the homes with these restrictions burned, despite nearby neighborhoods burning to the ground, AP reported.
---
Dust Bowl, redux?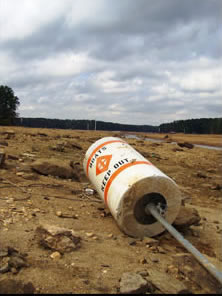 Copyright Tom Robbins, Flickr
At 38 centimeters below normal rainfall by mid-October, much of Georgia is suffering what NOAA calls an "exceptional" drought — the worst on its scale. Lake Lanier, which provides water to Atlanta and other parts of Georgia, had only three months' supply of water left in October. Georgia's governor is threatening to sue the Army Corps of Engineers over the water situation.
The Southeast, Mid-Atlantic and Tennessee Valley are under the worst drought conditions seen in more than a century, according to NOAA. Forty-six percent of the country was under drought conditions this fall, NOAA said, with more than a quarter of the Southeast under the worst conditions on a five-stage scale. In North Carolina, the governor asked residents not to use any water that was "not essential to public health and safety." In South Carolina, hefty fines were handed out for anyone caught watering their lawns. In Georgia, the governor declared 85 counties disaster areas, and threatened to sue the Army Corps of Engineers over the water situation. And as of mid-October, some experts said there was less than a three months' supply of water left in the lake that provides most of the water for Atlanta, the Christian Science Monitor reported Oct. 22. Some are calling this the worst summer drought since the Dust Bowl.
Record temperatures contributed to the drought conditions, NOAA said. In September, temperatures in the United States hit the eighth warmest on record, breaking 1,000 daily high records across the country.
Meanwhile, summer heat waves across the South and Midwest killed dozens of people, and drought and warmer temperatures pushed the water level in Lake Superior to its lowest point on record, according to the Army Corps of Engineers.
---
Storms Bring Floods to United Kingdom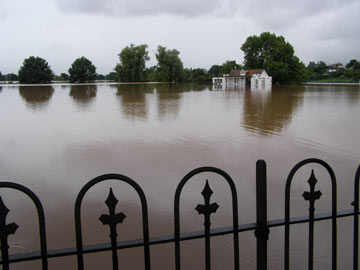 Frances Williams
In July, much of the United Kingdom was underwater due to the most severe flooding in decades. This picture of the St. John's area of Worcester was taken July 21.
Nearly a dozen people died in floods that stretched across the United Kingdom in June and July, due to abnormally heavy rains. Some areas received more than a month's supply of rainfall in a day, and some parts received the heaviest rains since recordings began, according to the U.K. Met Office. It was England's wettest July on record, and the second wettest on record for the whole United Kingdom. Affecting more than a million people, the rains flooded thousands of homes and left more than 350,000 people without running water for more than a week. Insurance claims could reach up to $4.1 billion (₤2 billion), the Association of British Insurers is quoted as saying in Yahoo Finance News, July 23.
Meanwhile, Prime Minister Gordon Brown drew a link between the storms and climate change. He announced a review of flood infrastructure and that funding to tackle climate change would increase from $620 million to $1.7 billion (₤300 million to ₤800 million). "We have got to meet the longer term challenges and we have already set up a review into what's happened both with climate change and the effect of that on the services and what is happening here," Brown said on July 24, according to the Daily Telegraph.
---
Mud still erupting in Indonesia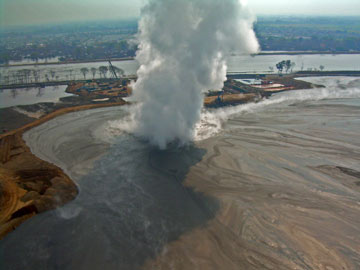 Adriano Mazzini
On May 29, 2006, mud began erupting on Java, Indonesia. That eruption continues, more than a year and a half later, and is not waning, according to Adriano Mazzini of the University of Oslo, who has been studying the mudflow since it began. Researchers have been trying to figure out exactly what caused the mudflow, with hypotheses ranging from nearby gas exploration to an earthquake. A new study, published by Mazzini and colleagues in Earth and Planetary Science Letters July 12, found that a magnitude-6.3 earthquake (which killed 6,000 people) initiated the mudflow (see Geotimes, October 2007). Not everyone agrees, however, and more research is under way. The mudflow is erupting between 5,000 and 180,000 cubic meters per day, and has buried the Indonesian countryside under more than six cubic kilometers of hot mud, Mazzini says.
Links:
"Indonesia mudflow caused by earthquake?" Geotimes, October 2007

---
Earthquakes Imperil Many
When Geotimes went to press, no magnitude-9.0 temblors had occurred in 2007, but large earthquakes had killed hundreds of people and caused millions of dollars of damage. Here's a snapshot of a few major events.
Sept. 12 - A magnitude-8.4 earthquake struck near Bengkulu, Sumatra, Indonesia, triggering a small tsunami. That quake was soon followed by a magnitude-7.8 temblor 225 kilometers away. The two temblors were followed by numerous strong aftershocks that rocked the island for more than a day. Together, the quakes and the tsunami killed at least 25 people, injured more than 160 people and damaged or destroyed more than 52,500 buildings in the region.
Geotimes online, Web Extra, Sept. 12, 2007; U.S. Geological Survey Earthquake Hazards Program.
Aug. 15 – A relatively shallow magnitude-8.0 earthquake struck off the coast of central Peru, about 150 kilometers south of Lima, causing massive destruction, killing more than 510 people and injuring an additional 1,500 people.
Geotimes online, Web Extra, Aug. 16, 2007.
Aug. 9 – A magnitude-7.5 earthquake struck off the coast of Java, Indonesia, just 100 kilometers from Jakarta. The quake awakened residents and shook tall buildings, but damage was minimal.
Geotimes online, Web Extra, Aug. 8, 2007.
Aug. 6 – A magnitude-3.9 "seismic event" was recorded by seismometers in Utah — but the event, seismologists said, was actually a cave-in at the Crandall Canyon Mine, not an earthquake. The cave-in trapped six miners deep belowground. A few days later, three rescuers died trying to save the trapped miners, and the search was suspended.
The Associated Press, Aug. 7, 2007; Bloomberg News, Aug. 17, 2007; see story, this issue. Coming later this month!
Aug. 2 – Three earthquakes all greater than magnitude-6.0 struck off Russia's Sakhalin Island, killing two people and causing minor damage. Initial concerns about oil and gas infrastructure at the site were unfounded.
Reuters, Aug. 2, 2007.
July 16 – A magnitude-6.7 earthquake struck Japan's western coast, killing at least seven people, injuring hundreds more and damaging one of the world's largest nuclear power plants, which subsequently leaked water into the Sea of Japan.
Geotimes online, Web Extra, July 16, 2007.
June 3 – A shallow magnitude-6.2 earthquake struck China's Yunnan province, killing three people, injuring more than 300 and forcing 180,000 people to evacuate from their homes. Damages were estimated at $327 million.
Reuters, June 4, 2007.
April 2 – A magnitude-8.0 earthquake and several strong aftershocks rocked the Solomon Islands, causing a several-meter-tall tsunami that hit the southwestern coast of the islands and killed dozens of people.
Geotimes online, Web Extra, April 2, 2007.
March 6 – A deadly magnitude-6.4 earthquake shook Padang, Sumatra, Indonesia, killing more than 70 people and sending residents scurrying to higher ground in fear of a tsunami. No tsunami was reported.
Geotimes online, Web Extra, March 6, 2007.
---
Hazards: Headline News Stories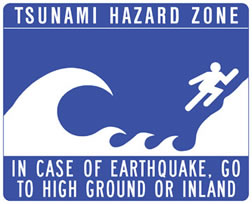 NOAA
Tsunami warning signs like this one line the coasts of California, Oregon, Washington and some East Coast states, as part of NOAA's tsunami warning network.
Tsunami and drought legislation pass
Congress passed and the president signed two bills related to natural hazards at the end of last year — one on drought and one on tsunamis, both of which provide funding to NOAA to improve forecasting and reduce the impacts of these natural hazards. The drought bill authorizes a forecasting and monitoring network, and the tsunami bill authorizes a new research program and standardization of existing warning systems.
White House press release, Dec. 20, 2006.
Midwest, South flooded
Weeks of heavy rains and storms caused massive floods in Oklahoma, Kansas, Texas, Missouri and other states in May, June and July. The storms caused levees to break along the Missouri River, inundating whole towns in the region's worst flooding since the historic 1993 floods. In Oklahoma, a malfunction at an oil refinery added to the recovery issues, as oil seeped into the floodwaters.
The Associated Press, May 9 and July 3, 2007.
New Madrid fault dying?
Previous studies indicated that the reason earthquakes occurred on the New Madrid Fault in the interior of North America is that the seismic zone is significantly hotter, and therefore structurally weaker, than its surroundings, thus creating a zone of weakness. However, controversial new research suggests that the New Madrid region is no hotter than the rest of North America, so the zone is not weaker. Furthermore, the researchers found that seismic activity in the region may be tapering off, and thus, the potential hazard to the region may be overestimated by hazard planners. Meanwhile, other researchers sought to find what caused the intraplate earthquakes in the first place: Remnants of an ancient tectonic plate that was subducted beneath western North America almost 70 million years ago, they say, may have caused the earthquakes on the New Madrid Fault.
Geotimes, March 2007; Calais and Stein, presented at American Geophysical Union Fall Meeting, December 2006; Forte et al., Geophysical Research Letters, Feb. 23, 2007.
Rare Middle East cyclone strikes
In early June, Cyclone Gonu swept through Oman, causing $1 billion in damage. The storm killed dozens of people and filled homes and businesses with water and mud. Despite concerns about the nation's oil and gas refining plants, the energy infrastructure was not affected.
The Associated Press, June 11, 2007.
Ancient earthquakes, tsunamis and geomorphological changes in the Mediterranean
On July 9, A.D. 551, a magnitude-7.5 earthquake, followed by a tsunami, destroyed most of the coastal cities of Phoenicia in modern-day Lebanon, including modern-day Tripoli and Beirut. With new geophysical data, researchers revealed that the cause of the quake was a previously unknown 100- to 150-kilometer-long fault. Another team of researchers used geophysical surveys and core samples to determine that a sandbar that stretched out from Lebanon's shore toward the ancient island of Tyre below the harbor allowed Alexander the Great to build a causeway and to seize the island. Still other coring and geophysical data revealed settlements — cities, perhaps — beneath Alexandria, suggesting that Alexander the Great was not the first to pick the harbor location to build in.
Elias et al., Geology, August 2007; Marriner and Morhange, Proceedings of the National Academy of Sciences, May 29, 2007; Geotimes, August 2007; Stanley et al., GSA Today, August 2007.
China says Olympics will be dry
While weather patterns over the past 30 years suggest that there is a 50 percent chance of rain for both the 2008 Summer Olympics opening ceremony on Aug. 8, 2008, and the closing ceremony two weeks later in Beijing, China, researchers there say that's not the case. They intend to limit the chances of rain through cloud-seeding methods, to induce rain in the days prior to the ceremonies so that the clouds are dry. As a side benefit, forcing rain before the Olympics may also help clear some of Beijing's pollution.
The Associated Press, April 25, 2007.
A volcanic year
In early January, the Soufriere Hills volcano on the Caribbean island Montserrat reawakened, sending a plume of ash eight kilometers high and volcanic debris three kilometers down the mountain's flanks. In late February, Italy's Stromboli volcano rumbled to life again, spewing lava out of two separate vents. Volcanologists said there were no signs of a large-scale eruption. An eruption that has been ongoing since 1999 at Tungurahua volcano in Ecuador was punctuated by an ash plume, incandescent material cascading down the flanks and lahars reaching roadways in mid-October. Explosions from the blasts vibrated windows and doors eight kilometers away. Indonesia's Mount Merapi also continued to erupt, sending ash plumes more than six kilometers high on three separate occasions.
The Associated Press, Jan. 9, 2007; Agence France-Presse, Feb. 27, 2007; Smithsonian Global Volcanism Program Weekly Volcanic Activity Report; see Geotimes, November 2007 for background.