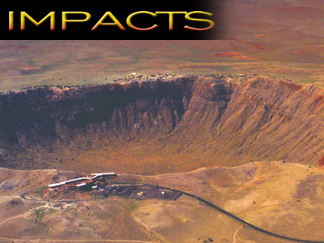 Unraveling the Chicxulub Case
On the Yucatan Peninsula in Mexico, geologists are drilling one of Earth's three largest impact structures, hoping to reveal clues about a devastating event linked to the extinction of the dinosaurs 65 million years ago.
Megan Sever
Coring the Chesapeake Bay Impact Crater
An extraterrestrial impact 36 million years ago left a lasting impression in the Chesapeake Bay and continues to affect the region's environment today.
C. Wylie Poag
The Many Faces of the Alamo Breccia
In Nevada, with no visible crater, researchers are piecing together evidence of a 370 million-year-old impact based on widely dispersed pieces of rock.
John E. Warme
Impacts in Space and on Earth: An Interview with Carolyn Shoemaker
Carolyn Shoemaker reflects on a lifetime of work with her husband Gene, uncovering impact structures around the world.
Lisa M. Pinsker


January 26
Mars Update: Opportunity lands
January 19
Travels in Geology: America's garden island
January 16
Saltier sea
January 14
Bush retools space program
January 9
Charcoal clues in dinosaur debate
January 6
Mars geologist in action

Webextras Archive


News Notes
Rocky boulders in Washington
Longer polar ice record
Cooked minerals resemble life
Green minerals on the Red Planet
Climate aids mountain building

Geophenomena
Research out of the ashes
Seafloor steam carries lava flows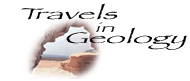 Taking a trip?
Check out Travels in Geology to find geologically significant places to visit.
Comment
Asteroid Futures
Although the near-term risk of a catastrophic asteroid collision on Earth may be slim, scientists acting now can provide insurance to protect future generations.
Richard P. Binzel

Political Scene
The 2003 Energy Bill: Did Politics Trump Science?
In her first months on Capitol Hill, a new congressional science fellow is already realizing that all politics are local, particularly when it comes to the nation's energy strategy.
Eloise Kendy

Education & Outreach
Earth Science Week in the Limelight
This year's Earth Science Week featured contests and events to celebrate the role scientists play in monitoring Earth.
Cynthia Martinez
Geologic Column
A Soft Rock Tourist at the Gates of Hell
Become a daredevil volcanologist through the eyes of four recently published books.
Fred Schwab
Profiles
W. Jason Morgan: Geophysics guru honored

Energy & Resources
Controversial mineral deposit sold
Mineral Resource of the Month: Lead



Check out this month's Energy Notes!

Geomedia
Life on a Young Planet
On the Web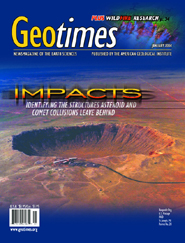 ON THE COVER
With a diameter of about 1.2 kilometers, Meteor Crater (also known as Barringer Crater) in northern Arizona was the first terrestrial impact crater researchers recognized as such, based on studies in the 1950s by Gene Shoemaker and colleagues. Today, scientists have identified about 170 impact structures throughout the world formed by extraterrestrial impacts. Read more on Impacts in Space and on Earth and throughout this issue. Image copyright of Meteor Crater Enterprises. Right top: This Advanced Spaceborne Thermal Emission and Reflection Radiometer image reveals the fire fronts of the Old and Grand Prix fires that raged in the San Bernardino Mountains at the end of October 2003. Vegetation is green, burned area is red, smoke is blue, and the fire front is pink. Read the story. Image courtesy U.S./Japan ASTER Science Team.
Coming Soon...
Later this month: Geologic Column: A Soft Rock Tourist at the Gates of Hell
February: Geoarcheology





Want to write science news?
Apply to be a Geotimes summer intern!

Visit our searchable archive.