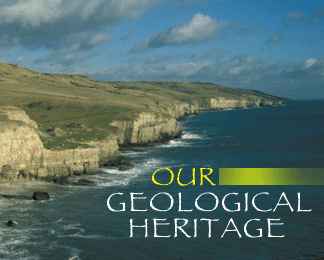 Geology for the Record
Utah's glacial Lake Bonneville left behind signatures of its Pleistocene existence — relics containing valuable information about the area's changing climate over the past 28,000 years. But that information could be lost to urban growth and the need for resources unless people understand their geologic value.
Marjorie A. Chan, et al.
The British Framework for Geoconservation
With roots in 19th-century fascination for natural history, Great Britain has a solid legal framework for protecting sites large and small based on geologic significance.
Peter Doyle
European Geoconservation
They are all over Europe: Geoparks, places set aside for their unique geology.
Compiled by Lisa M. Pinsker


June 10
NASA cautiously raises "Spirit" to Mars
June 6
Models of Iraq's toxic plume under fire
June 2
Land use could also affect climate change
May 23
Death toll approaches 1,500 in Algeria quake
May 16
Debating earthquake safety in America's heartland

Webextras Archive

JOB OPPORTUNITY at Geotimes

News Notes
Legal victory for mining
A new fire in tiger's eye
Amazon's ancient rain forest
Raining hydrocarbons in the Gulf
Cannibal dinosaurs
Debating the fastest evolution on record

Geophenomena
Evidence for Dust Bowl dust in Greenland
New sinking rates for Louisiana


Comment
Iraq's Desert Also Needs Healing
The desert is protected by a delicate layer of gravel pieces, sorted and placed over time by wind. With the recent war in Iraq, military vehicles and digging destroyed this layer; but the military can take measures to begin to heal it.
Farouk El-Baz





Political Scene
Congress Re-examines Earthquake Policy
It should not take a catastrophe for us do the right thing and make the minimal investments needed to deploy existing technology where it can do the most good.
David Applegate

Geologic Column
The Springhill Mine Disaster
Remember your first time in a cave or an underground mine? Now, think back to the moment when all the lights were turned off.
Lisa A. Rossbacher
Profiles
Mary Lou Zoback and James Dieterich
Bill Dietrich

Energy & Resources
A second look at geothermal energy
Mineral Resource of the Month: Germanium

Geomedia
Ten years of mapping Utah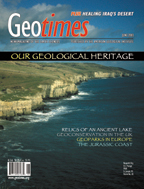 ON THE COVER
A view of Man o' War Cove, part of the Jurassic Coast, a 95-mile stretch of Mesozoic geology and fossils in Dorset and East Devon Coast, England. Last fall, UNESCO designated the coast a Natural World Heritage Site. Photo is by John Chaffey, chairman of the Dorset Geologists' Association.
Coming Soon...
July: Highlights
August: Geology and ecology

JOB OPPORTUNITY at Geotimes

Visit our new searchable archive.