News Notes

Doubling the ice record
The missing methane link
Soils influenced Hawaiian chiefdoms
A loophole threatens Yucca Mountain
Fossil fetus of flying reptile unearthed
Burrowing K/T survivors
Pressure shifts in Yellowstone
New water model for Southwest
Sliding into Saturn
Fossil victory in Alabama

Geophenomena
New explanations for Western drought
Energy & Resources
Geology and Beer: It's in the water; What's in a name?
Mineral of the Month: Tantalum
Geoscience Education and Outreach
Best in Show
A 17-year-old from Fort Meyers, Fla., blew the competition away with her seafloor volcanism project at the recent Intel International Science and Engineering Fair.
Megan Sever

Technology
Wine Insurance in the Northeast
Even in the wet northeastern United States, vineyards need some extra protection against times of drought.
Naomi Lubick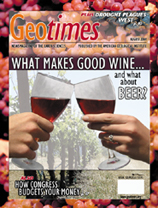 ON THE COVER
Geology plays a powerful role in the development of high-quality wine grapes, and in turn, high-quality wine. Photo of the wine grapes is courtesy of the Wine Institute. Photo of the Chabot Vineyard, Glass Mountain, Napa Valley, is courtesy of David Howell. Cover created by Mark Shaver.
Coming Soon...
Later this month: Geologic Column: California Wines — Well-Shaken and Stirred
September: Higher Education




Visit the Geotimes archive to search for past stories.