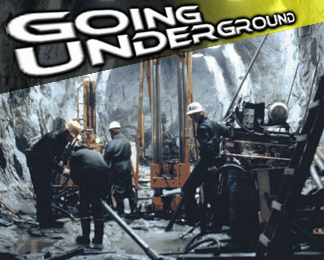 Physics and Earth Science Go Underground
Last September, physicists met to discuss a proposed National Underground Science Laboratory. Earth scientists were at the meeting too, making the case for a long-awaited underground earth science laboratory.
Brian McPherson et al.
Building the World's Longest Rail Tunnel
To reduce truck traffic through the Alps, Switzerland is improving its rail system. Part of the project means building two tunnels under the mountains, one that will stretch 57 kilometers long.
Simon Löw and Herbert Einstein
Stories from the Underground
This year's career profiles go in-depth, featuring geologists who make caves and mines their workplaces.
Geotimes staff
Coming Soon...
March: Burying carbon dioxide
April: Geoscience policy: science at the state surveys
May: Geology on Mars

Announcing
Students:




And, read our special careers page.

Energy Notes: Read this month's energy notes and link to a new archive of past energy numbers!




February 24
Deadly quake hits remote China
February 21
Forecasting hurricane-related disasters
February 21
Barge fire in New York
February 10
Tapping the heat in Japan
February 4
Security, defense top Bush budget proposal

Webextras Archive
News Notes


Cores show fault in New Madrid seismic zone
Early water on Earth
Hydrates under a magnifying glass
Scientific travels after 9/11
A future for Iraq's oil

Comment
Going Underground and Crossing Boundaries
Any plan to build an underground laboratory will demand that geoscience and engineering merge.
Peter Smeallie

Political Scene
New Congress, New Faces
A look at the new leaders who will be making key decisions that affect earth sciences.
David Applegate

Geoscience Education
Student-scientist partnerships
Start small and grow: How to bring students and scientists together.
Robert Merril Ross and Paul Gwion Harnik



Geophenomena
An Eye on Weather at its Worst
A trip to the top of Mount Washington.
Christina Reed

Energy & Resources
Renewable energy's Achilles' heel



Technology
Creeping toward quake early warning
Researchers move closer to giving communities notice of an approaching quake.
Lisa M. Pinsker