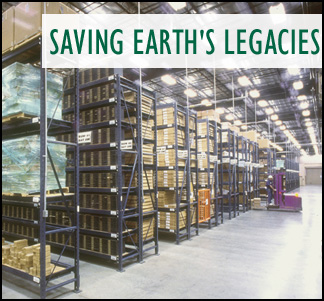 Resources in Peril
A report by the National Research Council finds that volumes of U.S. geological data and collections are at risk of being discarded or unused.
Paul Cutler and Christopher G. Maples
Data Preservation: A Global Perspective
National repositories are spreading as countries seek to address a common challenge.
Christopher M. Keane
Access Makes an Old Collection New
The founding collection of the Illinois State Museum was in danger of being forgotten.
Brian Bisbee
The Crisis in Geological Collections
Collections of geological samples underpin the geological and paleontological sciences. But we face a crisis in preserving them.
Donald G. Mikulic and Joanne Kluessendorf
Coming Soon...
July: Highlights of trends and research, including
Web-exclusive stories!
August: Texas-style geoscience funding
Announcing
Visit our new online On Exhibit Archive. Read reviews of museums and exhibits across the United States!


June 27
Footprints step back bird origins?
June 20
Solar links to climate change
June 13
First on the scene: Asteroid collisions
June 6
New rules endanger GPR
May 24
Hydrothermal vent anniversary expedition
May 23
Dispute over first rocks fit for life

News Notes


Ice Age detectives
Sediments show ancient salmon swings
Superplumes across the mantle
Warm winds in the Arctic?
First steps on land
Field Notes
Political Scene
Energy Policy at the Crossroads
The House and Senate have both passed versions of comprehensive energy bills. Now they must craft a compromise.
David Applegate

Geophenomena
Tornado rips through Maryland
Au Sable Forks earthquake rattles Northeast
Undergrads map natural hazards

Energy & Resources
Caribou Study Charges Energy Debate
A USGS wildlife study took center stage this spring as Congress debated drilling in the Arctic National Wildlife Refuge.
Lisa M. Pinsker
Get this month's Energy Notes here!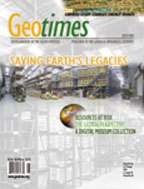 ON THE COVER
Petroleum companies accumulate hundreds of drill cores and other data as they explore for oil. Some of these samples of Earth's subsurface are well stored in repositories like those pictured here in the background and foreground. But not all the data find a home. Read more. The fossil pictured is the Ammonite Sphenodiscus lenticularis, Maastrichtian Stage, South Dakota. Photo by Ed Gerken for the Black Hills Institute of Geological Research Inc.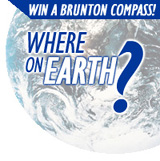 Print Table of Contents
From the Editor
Where on Earth?
Society Page
Geomedia
Calendar
Classifieds