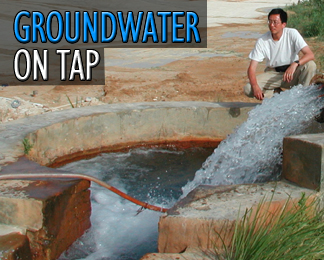 Natural Boron Contamination in Mediterranean Groundwater
More than 10 percent of water resources in the Mediterranean basin have boron levels that exceed E.U. standards for drinking water. Understanding the source of the problem will help countries better manage their groundwater and, in some cases, overcome conflict.
Avner Vengosh et al.
Western Aquifers Under Stress
Throughout the United States, people are increasingly turning to groundwater resources. Nowhere is that more true than in the West, where aquifers are rapidly dwindling.
Geotimes Staff

Click here to read Geotimes' ongoing coverage of exploration of the red planet.


May 28
New New Madrid findings
May 24
Today's volcano risks
May 17
New centers for ocean and health research
May 12
Travels in Geology: Soaking up Glenwood Springs
May 10
Big impact for a small Moon mineral
April 30
Early volcanic living?

Webextras Archive

News Notes


Outsourcing geology
Deciphering planetary magnetism
Mineral-making microbes
Ocean anoxia
Geology cut in Missouri
Fossilized plague in Egypt
Ice in the greenhouse?
French science crisis

Geophenomena
Tracking Contaminants Down the Mississippi
Researchers take an integrated approach to studying the flow of chemical contaminants from the Mississippi River into the Gulf of Mexico.
Peter Swarzenski and Pamela Campbell
Comment
Closing the Gap Between Water Science and Water Policy
Sustainable water management will only be possible through science-based policy-making.
Craig M. Schiffries

Political Scene
Breaking Down the Barriers: A Two-Part Series, Part II
Choosing the right contact in Congress to help move your issue forward is key to successful lobbying.
Eloise Kendy and Kevin Vranes
Geoscience Education & Outreach
A Whale of a Find
Now on display: a fossil treasure Hurricane Isabel uncovered in a stretch of cliffs along the Maryland coast during its destructive course.
Megan Sever
Trends **NEW COLUMN
What Does It Take to Get Tenure?
New survey results reveal the many factors that affect a female geoscientist's chance to reach tenure as a professor in the United States.
Annabelle Foos et al.
Geologic Column
The Department You Save May be Your Own, Part II
Following some simple steps may ensure your department's survival.
Lisa Rossbacher and Dallas Rhodes
Profiles
Reds Wolman: From cows to pebble counts



Check out this month's Energy Notes!

Geomedia
Book reviews: Chasing Lava and Meteorites, Ice, and Antarctica
Digital mapping for Washington state
On the Web
Energy & Resources
At the pump, Part I
More reserves cuts for Shell
Mineral of the Month: Rare Earths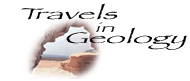 Taking a trip? Check out Travels in Geology to find geologically significant places to visit.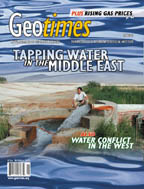 ON THE COVER
Groundwater aquifers are an important source of drinking and irrigation water around the world — particularly in the desert. Here, Zheng-Tian Lu, a physicist at Argonne National Laboratory in Illinois, inspects an artesian well at Farafra Oasis, in the Western Desert of Egypt. Lu led a team that dated the oldest water in the Nubian aquifer, a vast expanse of groundwater below the Sahara Desert. See story and features for more about groundwater investigations throughout the Middle East and the western United States (to be posted later this month).
Coming Soon...
June: Stone sculpture
Visit our searchable archive.