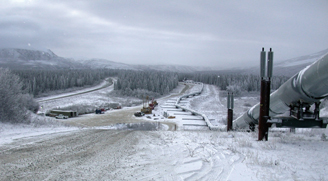 Building a Natural Gas Pipeline Through Earthquake Country
Engineering a route for Alaska's proposed natural gas pipeline is no easy task, particularly when it will run through the most earthquake-prone region in North America.
Rod Combellick

Sizing Up Oil on Alaska's North Slope Print Exclusive
Northern Alaska's unique geology has made it a leader in U.S. petroleum production for the past 30 years, but its remaining time at the top might be short.
Kenneth J. Bird and David W. Houseknecht

Alaskan Villages Weigh in on Mining Debate
Print Exclusive
Alaskan natives are struggling to improve their economies through mining, while maintaining a traditional subsistence lifestyle.
Kathryn Hansen


Visit the Geotimes archives to search for past stories.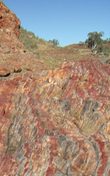 News Notes
Crystals heat up volcanic eruptions
Conveyor belt shutdown not imminent
Priest resigns amid evolution talk
Forest fires release mercury
Methane burps below the ice
Airing out an early atmosphere
Canada's diamonds face old age
Mineral clock not set in stone
Geophenomena Print Exclusive
Storms on Earth stir up space weather
Rare earthquake rattles Gulf of Mexico
Energy & Resources Print Exclusive
Easing oil's flow
Did you know?: Gas thefts
7-Eleven and Citgo part ways
Mineral resource of the month: Barite
Trends & Innovations Print Exclusive
Looking for Geophysical Signs of Life
Understanding how bacteria that live underground emit electrical signals is fueling a new field of study that could apply to everything from enhancing bioremediation to looking for life on Mars.
Carolyn Gramling
Education & Outreach
Sustainable Mobility: Hybrid Vehicles Compete
Some students are thinking ahead, developing the automotive technologies of the future.
Jennifer Yauck

Order your FREE trial copy of Geotimes! Take advantage of your special promo code.
Comment
Guarding Against Tsunamis: What Does It Mean To Be Ready?
Technical systems to warn residents of an impeding tsunami are not enough.
Laura S. L. Kong

Political Scene
A Winding Path to the Energy Hill
The route to the energy sector and politics came unexpectedly to one geoscientist.
Allyson K. Anderson

Geologic Column
Thinking space
Is packing the trunk of your car for a roadtrip a personal specialty? Then you might be a geoscientist, or at least think like one.
Lisa Rossbacher

Profiles
Mark D. Myers: Politics, pipelines and permafrost


Check out this month's Energy Notes!

Geomedia
Books: Evolving a higher understanding between religion and science: A look at The Evolution Dialogues
Books: Surveying seismology and society: A review of After the Earth Quakes
On the Web: Volcano monitoring with a mouse
Benchmarks Print Exclusive
November 12, 1799: Leonids on the record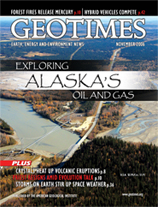 ON THE COVER
An aerial view shows the Trans-Alaska Pipeline System and Richardson Highway, where they cross the Tanana River at its confluence with the Delta River, about 13 kilometers north of Delta Junction in Alaska. South of the Tanana River, the pipeline is buried where it crosses farmland in glacial outwash deposits. In two current proposals for a natural gas pipeline from the North Slope, the gas pipeline would follow the oil pipeline to this area and then turn southeast to follow the Alaska Highway to a hub in Canada. In a third proposal, the gas pipeline would follow the oil pipeline for its entire route from Prudhoe Bay to Valdez. Read more in this issue. Photo by Rod Combellick.
Coming Soon...
Next month: Highlights: Year in Review