DOWN TO EARTH WITH...
Astronaut and planetary scientist Stanley Love
GEOMEDIA
Movies: Wall-E: Save the Robot, Save the World
Books: Africa Atlas: Worth a Thousand Words
TV: When NASA Left Earth
Books: The Great Warming: The Climatic Rise and Fall of Civilizations
On the Web: Ten Sure-Fire Ways to Spot a Geologist
BENCHMARKS
August 3, 1908: Priests Uncover the "Old Man of La Chapelle-aux-Saints" Print Exclusive
TRENDS & INNOVATIONS
Tracking Deadly Lahars Print Exclusive
Researchers knew a torrential mudflow on New Zealand's Mount Ruapehu was imminent, so they set up monitoring equipment. When the lahar struck last year, they captured the world's most complete dataset of just what happens when mudflows cascade down volcanic slopes. The new data should help researchers better predict this sleeping danger.
Nicole Branan

A POLITICAL COMMENT ON...
Opportunity in Change: Telling the Next Administration What it Needs to Know
The next presidential administration probably represents the best opportunity in a generation for the geosciences to be heard by federal decision-makers, regardless of which party wins the White House.
P. Patrick Leahy
A COMMENT ON ...
It's the Energy, Stupid!
It is not singularly politics, the economy or the environment that matters most, as many people think. Although each is a vital issue, our focus must be on energy.
Rasoul Sorkhabi

GEOLOGIC COLUMN
Catching Humpty Dumpty
We put off preventative maintenance of our "personal infrastructure" as long as possible, begrudgingly digging into our wallets often only after catastrophe strikes. Our nation is just as irresponsible at maintaining its infrastructure.
Fred Schwab
---

Check out this month's Energy Notes!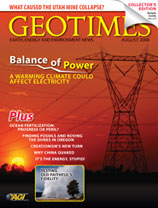 ON THE COVER
Electricity lines. Corbis Images.
NEXT MONTH
America's largest oil spill
Learning from fossilized feces