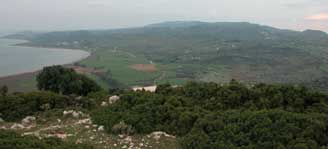 Finding Ithaca
For years, people have wondered whether Homer's Odyssey is at all true. Now, geologists are helping to locate real-world sites in the epic poem, including Odysseus' homeland of Ithaca.
Megan Sever

Buried Beneath the Black Sea: Cities and Ships Submerged Print Exclusive
An expedition to the Black Sea last summer led to some surprising discoveries found preserved under the waters, including ancient ships and submerged coastlines.
Carolyn Gramling

Geophysics in the Valley of the Kings Print Exclusive
Geophysical techniques and tools, such as ground penetrating radar and magnetometers, help rediscover Egypt's lost tombs.
Leanne Mallory

PLUS: New maps key to preserving old tombs
Print Exclusive


Visit the Geotimes archives to search for past stories.
News Notes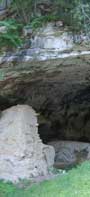 Neanderthal DNA unraveled
Hominid teeth reveal a broad palate
Eruptive event caught red-handed
The color of crinoids
Tonga's newest island
Meteorite pre-dates solar system
Saturn surprises with southern storm
"Dibs" in space
Heat flow causes magnetic reversals
Ice reveals polar temperature seesaw
Arctic not a refuge for oil
A look ahead at the 110th Congress
Geophenomena Print Exclusive
National park awash with costly destruction

Energy & Resources Print Exclusive
Shiny outlook for greener aluminum production
Did you know? U.S. oil consumption and reserves
Mineral resource of the month: Kyanite
Trends & Innovations Print Exclusive
More Digging Ahead to Unlock Dinosaurs' Pasts
In the past two decades alone, paleontologists have described as many dinosaurs as have been described since 1824. Researchers suggest that another 1,300 genera may yet to be found.
David Williams

Education & Outreach
Teachers Face Desert Heat of Spaceward Bound
A fifth-grade teacher relates his experiences with NASA's Spaceward Bound program in Chile's Atacama Desert.
Kathryn Hansen

Order your FREE trial copy of Geotimes! Take advantage of your special promo code.
Comment
International Collaboration in Global Science: Price or Prize?
The International Year of Planet Earth begins this month. It will challenge the world's geological community to seek solutions to some of the greatest geoscience-based problems of our age.
Edward Derbyshire

Political Scene
Diversity in the Geosciences — We Can Do Better
The geosciences are facing a recruitment predicament in education and the workforce.
Margaret Anne Baker

Geologic Column
Words, Words, Words
Geoscientists use lots of specialized words. Could you spell them all?
Lisa Rossbacher

Profiles
Max Mayfield: In the eye of the storm


Check out this month's Energy Notes!
Geomedia
Movies: IMAX film storms into wetland issues: A review of Hurricane on the Bayou
Books: An earthquake — and fire and racism in the aftermath: A review of Yokohama Burning
On the Web: Web gets serious about Ceres
Benchmarks Print Exclusive
January 28, 1986: The Challenger Disaster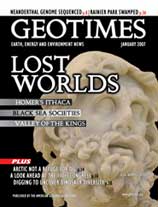 ON THE COVER
Odysseus, seen here from a museum located in the Villa of Tiberius, Sperlonga, Italy, was the Greek hero of the Trojan War during the Myceanean Age. After a 10-year-long perilous journey, he returned home to his kingdom of Ithaca, which researchers have been trying to locate for millennia. See feature, this issue. Photographed by Robert Bittlestone with the permission of the Soprintendenza per i Beni Archeologici del Lazio, Ministero per i Beni e le Attività Culturali, Roma.
Coming Soon...
Next month:
Engineering geology