Click here to read Geotimes' ongoing coverage of exploration of the red planet.


April 30
Early volcanic living?
April 22
Travels in Geology: A Midwest glacial retreat
April 16
EPA announces ozone hotspots
April 6
Powerful earthquake strikes Afghanistan
April 1
Travels in Geology: Red Rock Country
March 25
Interior back online
March 24
Mars update: Standing water on planet's surface
March 19
Steady water use

Webextras Archive

News Notes


Russian oil rumbles
Tracks in the Colorado sand
Minerals on the line
Mars once drenched with water
A gem of a model
Iron bullets

Geophenomena
Predicting landslides
Hot spring pops up in Paso Robles
Dry craters in Bhuj

Technology
A Climate of Your Own
A large climate model is borrowing computing time from more than 47,000 personal computers worldwide.
Tim Palucka
Comment
A Celebration of 125 Years
In its anniversary year, the U.S. Geological Survey continues to provide timely information to the public about the world's changing environment.
Charles G. "Chip" Groat

Political Scene
Breaking Down the Barriers: A Two-Part Series, Part I
Lobbying is a powerful tool for getting your message to Congress.
Eloise Kendy and Kevin Vranes

Energy & Resources
New Collaboration in Minerals Research
Now more than ever, it is important that the United States be at the forefront of minerals research, and cooperative research centers could be the key.
Robert J. Kamilli and Mark D. Barton
Geologic Column
The Department You Save May be Your Own, Part I
One by one, geology departments are fighting for their survival.
Lisa Rossbacher and Dallas Rhodes
Profiles
Past is Prologue: Honoring young geoscientists



Check out this month's Energy Notes!

Geomedia
The Foreign Founder of the Smithsonian
Global Mars maps
On the Web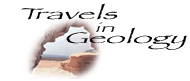 Taking a trip? Check out Travels in Geology to find geologically significant places to visit.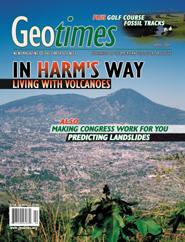 ON THE COVER
Main photo: From the slopes Illopango Caldera looking north-northwest, Volcán San Salvador looms over the city of San Salvador, population 1.6 million. The main vent (Boqueron) is the rounded volcano in the middle of the skyline. The more conical-shaped peak to the right-middle of the skyline is El Picacho, a remnant of an older volcano. Photo by James Vallance, U.S. Geological Survey. See related stories on pages 14 and 18. Right top: At the Fossil Trace Golf Course near Denver, Colo., paleontologists discovered several well-preserved mammal tracks from the age of the dinosaurs. Photo courtesy of Fossil Trace Golf Course. See story on page 6.
Coming Soon...
Later this month: Geologic Column: The Department You Save May Be Your Own (Part I in a two-part series)
May: Water conflicts
Visit our searchable archive.