Comment
The Geosciences — Profession or Discipline?
The earth sciences are at a crossroads: Will they broaden into a liberal science or try to retain the status of a profession?
Christopher M. Keane

Political Scene
Suppressing Science in Policy: Sharing Responsibility
Science is only one of many factors that contribute to decisions on science policy made on the Hill and in the White House.
Eloise Kendy
Geologic Column
Manna from the Heavens?
When an ordinary rock shoots to cosmic fame, its finders often seek fortunes only to find geologic truth.
Lisa Rossbacher
Profiles
Joining the academy: The National Academy of Sciences has elected six geoscientists to join its membership this year.



Check out this month's Energy Notes!

Geomedia
Digital geologic map of Virginia
On the shelf
On the Web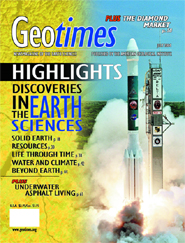 ON THE COVER
On June 10, 2003, from Cape Canaveral, Fla., NASA successfully launched the Mars Exploration Rover-A, named Spirit, aboard a Delta II rocket. Since it landed on Mars in January of this year, Spirit and its twin Opportunity have sent back a wealth of data about the geology of Mars. Read the Highlights stories for more on the rovers' findings as well as other new Mars-related research. Photo courtesy of the Boeing Company.
Coming Soon...
August: Geology and Wine