When Volcanoes Threaten, Scientists Warn
Scientists use volcanoes' pre-eruptive behaviors, such as increasing seismic activity, to warn that an eruption may be imminent. But what happens when a volcano doesn't explode, and people begin to think the scientists are crying wolf? Enter the case of Tungurahua, Ecuador.
Theofilos Toulkeridis, Robert Buchwaldt and Aaron Addison
---
Yellowstone and Heise: Supervolcanoes That Lighten Up
New studies of the volcanic rocks from previous eruptions of the Yellowstone supervolcano and its predecessors give researchers insight into possible future eruptions at America's first national park.
Kathryn Watts
Danger Lurks Deep: The Human Impact of Volcanoes
Massive volcanic eruptions may be rare, but they can be deadly, as millions of people live in the shadow of a volcano. A new analysis examines which parts of eruptions are the most hazardous to humans.
Joanne Feldman and Robert I. Tilling
---
DOWN TO EARTH WITH...
Jack-of-many-trades David Applegate
GEOMEDIA
BOOKS: Deciphering the Roles of Science, Policy and Politics: Q&A With Author Roger Pielke Jr.
BOOKS: World's Oldest Fossils Shows Fossils Just as You Find Them
ADVERTISING: Stories of Oil: Oil Industry Tries a Hollywood Approach
ON THE WEB: Google in the Sky
BENCHMARKS
November 1, 1755: Earthquake Devastates Lisbon
Print Exclusive
TRENDS & INNOVATIONS
Finding Minerals Beneath the Deep Blue Sea Print Exclusive
As the prices of minerals rise and the technologies to find them improve, some companies are beginning to explore a new frontier — beneath the sea.
Nicole Branan
EDUCATION & OUTREACH
Students Change Their Lifestyles
Thanks to the Lifestyle Project, which tests students' eco-awareness and then challenges them to make changes, students are realizing that even minor changes in behavior can help the environment.
Nicole Branan
A COMMENT ON ...
Coastal Development: The Galveston Case, Part II
The world's coastlines are being developed, despite calls from scientists to protect natural systems. The public needs to heed these calls, or disaster could await.
Jim Gibeaut
A POLITICAL COMMENT ON...
Science Legislation: America COMPETES, Geeks Rule and Everybody Wins
Congress passed and the president signed the America COMPETES Act this fall. The act is designed to promote science and technology education and, if funded as designed, is a win-win situation for everyone.
Linda Rowan
GEOLOGIC COLUMN
You Must Remember This …
Those pesky mnemonic devices you learned in grade school can come in handy in college and at work when trying to remember everything from the planets' order to rock hardness.
Lisa A. Rossbacher
---

Check out this month's Energy Notes!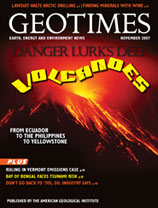 ON THE COVER
Ecuador's Tungurahua volcano has been erupting intermittently for the past eight years. Read more in this issue. Photo is courtesy of Alois Speck, CGVG-USFQ.
NEXT MONTH
Highlights of 2007