EarthScope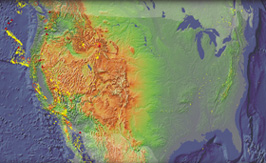 EarthScope: Reassembling a Continent in Motion
How do you watch an entire continent as it moves? The proposed EarthScope project would allow earth scientists to study North America on a continental scale.
Gregory van der Vink for the EarthScope Working Group and steering committees
Science on Tribal Lands
Land management requires good earth science, especially for one of the country's most significant land-owning populations: Native Americans.
Susan M. Marcus
Coming Soon...
May: Water
June: Preserving Geoscience Data
July: Highlights of trends and research
Announcing
STUDENTS:
Read our special careers page.
Do you love science and writing?
Apply now for the Geotimes Fall 2002 internship

April 19
Superplumes across the mantle
April 16
Deadlines approaching for Wash. and N.H. geologists
April 12
Marshlands in danger
April 1
Aftershocks in Taiwan
March 29
Piece of the tectonic puzzle found
March 26
Shallow earthquake hits Afghanistan
News Notes


USGS water research threatened
Life on the rocks
East vs. West in the inner core
Trouble in British Columbia
Field Notes
Comment
Science Funding out of Balance
Advances in science and technology are keystones of economic prosperity. We need to support a broad portfolio.
The Honorable Sherwood Boehlert

Political Scene
Turning a Request into Reality
It is going to take a major effort by the geoscience community to convince Congress to fund EarthScope. But the long-term payoff will be worth it.
David Applegate
Geophenomena


Slip and slide in Kentucky
Dry spell in the Eastern U.S.
Quake shows Turkey quick and nimble
Webextras on recent large quakes
Technology
3-2-1 Meltdown
The Cryobot: It burrows, it melts, it collects.
Christina Reed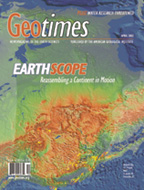 ON THE COVER
The continental United States (pictured here rotated 90 degrees) is home to active faults and volcanoes. In this image, yellow dots indicate earthquakes with magnitudes of less than 6.0 that have occurred since 1980. Open circles are earthquakes between magnitudes of 6.4 and 8.0 that have hit since 1900. Triangles represent major volcanoes, white lines represent active faults, and the red circle and triangle in the center mark the Yellowstone hot spot. Earth scientists still have many questions about the structure of the North American continent and how all these dynamic processes relate to each other. Read story. Photo supplied courtesy of the IRIS Consortium.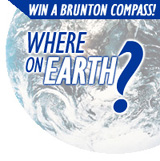 Print Table of Contents
From the Editor
Where on Earth?
Society Page
Geomedia
Calendar
Classifieds