DOWN TO EARTH WITH...
Meteorologist and Scrabble-Player Marshall Shepherd
GEOMEDIA
Museums: A Fresh Look at Dinosaurs in Their Time
Books: Soil Can Bring Down Society: A Review of Dirt: The Erosion of Civilizations
On the Web: Chef Mario Batali Goes Green
BENCHMARKS
January 2, 1960: The solar system gets a date Print Exclusive
TRENDS & INNOVATIONS
Nuclear in a Carbon-Based World Print Exclusive
The Nuclear Regulatory Commission has received the first in an expected flood of permit requests to build new nuclear reactors in the United States — something that hasn't been done since the 1970s. The nuclear energy industry hopes it marks the turning tides from a carbon-based to a nuclear-based country.
Nicole Branan
EDUCATION & OUTREACH
Trying a Toxic Case in a Classroom
The 1982 Woburn toxic water case became a best-selling book and blockbuster movie, and is now used in a mock trial format in a classroom at Ohio State University, much to the benefit of the students who participate.
Nicole Branan

A COMMENT ON ...
Climate Change: Teaching a Moving Target
Consider the changes that have taken place in the climate debate over the last 10 to 20 years — in the 1980s, "global warming" had hardly been heard of and today, there are mainstream movies about it. How can a textbook writer or a teacher keep up?
William Ruddiman
A POLITICAL COMMENT ON...
The New Upside-Down Politics of Climate Protection
Politicians are all talking about climate change and trying to enact their own bills, but the politics of energy and climate, like politics in general, tend to be local. Will 2008 mark the "tipping point" in climate policy?
Bryan K. Mignone
GEOLOGIC COLUMN
Nuclear Power Is No Michael Jordan
Can nuclear power make a Michael Jordan-caliber comeback in the United States? Only time will tell.
Fred Schwab
---

Check out this month's Energy Notes!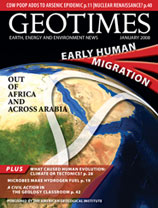 ON THE COVER
New research indicates that humans may have migrated across southern Arabia on their historic trip out of Africa. AGI/NASA.
NEXT MONTH
Oil around the world