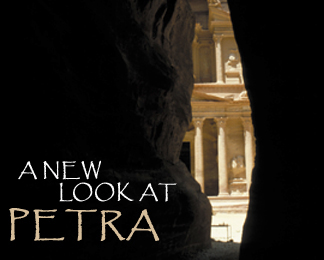 Revisiting the Fall of the Old Man of the Mountain
In May 2003, New Hampshire's Old Man of the Mountain fell to its end, a victim of erosion. A year later, the state is still debating how to commemorate the structure.
David R. Wunsch and Brian Fowler
Memorials in Stone
In the 20th century, granite outcrops became an important medium for honoring people in U.S. history.
Geotimes Staff


June 28
Midwest shaking
June 24
Evidence for impact winter
June 22
Travels in Geology: Adventures in Charleston
June 17
To Mars and beyond
June 15
Domed dinos made love not war
June 9
Indonesian volcanoes erupt
June 7
Hazards roundup: Iran and Kilauea

Webextras Archive

News Notes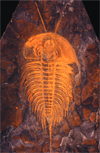 Reworking the Cambrian explosion
Super-size quake
Tapping methane hydrates in the Gulf
Closing the dating gap
Making El Niño predictions
Why the wobble?
Shifting compass points
Early volcanic living
Big impact for a small Moon mineral


Click here to read Geotimes' ongoing coverage of exploration of the red planet.
Comment
Space Exploration and Development: Why Humans?
Exploration of the Moon, planets and beyond should use the best combination of human and robotic techniques.
Harrison H. Schmitt

Political Scene
Science Funding Left Behind
Funding of science programs in U.S. public schools may get short shrift with the new federal budget.
Emily Lehr Wallace
Geoscience Education & Outreach
Touching the Stars
Geoscientists are using innovative approaches to teaching their subject matter to visually impaired students.
Naomi Lubick
Technology
An Infrasound Renaissance
Measuring low-frequency sounds around the world can fuel research in everything from monitoring volcanic ash plumes to identifying the best waves for surfing.
Megan Sever
Geologic Column
Geologic Risk Assessment: Alan Greenspan or Pete Rose?
Managing geologic risks must go beyond simple cost-benefit analysis.
Fred Schwab
Profiles
Larry Funkhouser: The "Midwestern" oil explorer



Check out this month's Energy Notes!

Geophenomena
9/11 clears skies for climate studies
Dangerous dust storms on the rise
Energy & Resources
At the pump, Part II
Mineral of the Month: Copper
Geomedia
The Climate Waltz: A review of The Long Summer: How Climate Changed Civilization
New science museum in the nation's capital
New maps from the U.S. Geological Survey
On the Web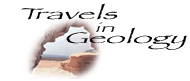 Taking a trip? Check out Travels in Geology to find geologically significant places to visit.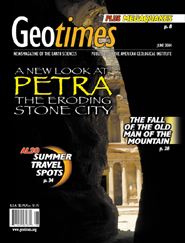 ON THE COVER
In southern Jordan, the winding sandstone canyon walls of the Siq lead to the entrance of Petra and the imposing facade of a monument known as the Treasury. An elaborate system of canals and cisterns once controlled flash floods that carved the Siq over millennia. See feature story for more. Photo courtesy of Tom Paradise.

Coming Soon...
Later this month: Technology: The Infrasound Renaissance; Geologic Column: Geologic Assessment: Alan Greenspan or Pete Rose?

July: Highlights issue
Visit our searchable archive.